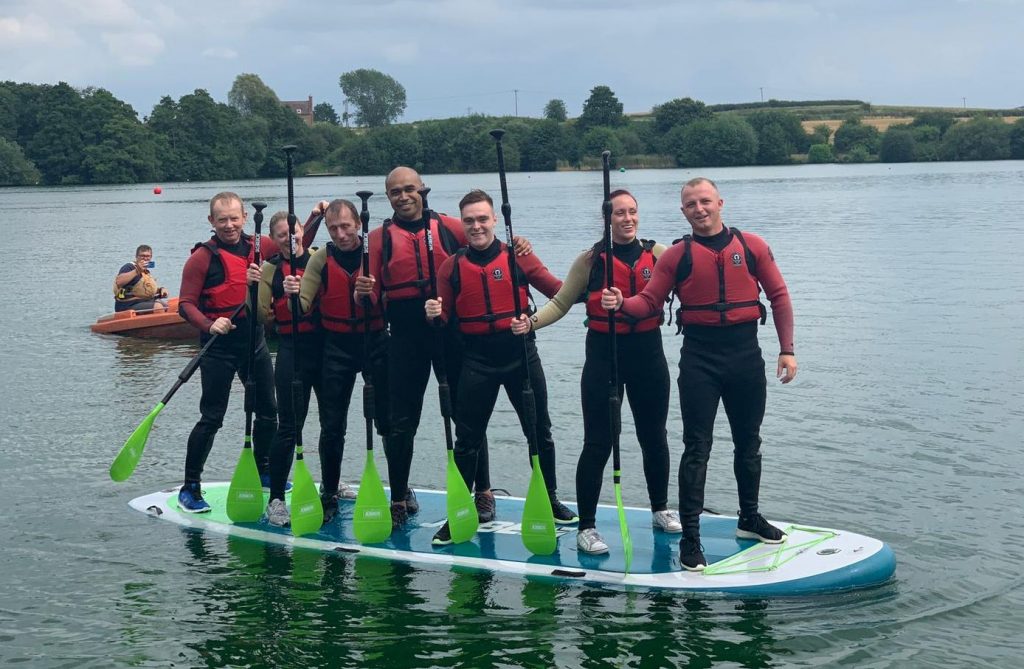 Reservists from 237 Squadron Royal Logistic Corps took part in Exercise Barbarian Splash over the summer period.
The Exercise was part of an adventure training initiative and took place at the Aztec Adventure Water Park in Bromsgrove.  Organised by Staff Sergeant Coley and led by the Officer Commanding of 237 Squadron, Major Rendall, 23 personnel from the unit participated in activities such as sailing, windsurfing, kayaking, sports and driver conversion training.
Not all of the training Reservists undertake is about learning military skills and trades associated with their role.  Adventure training is an essential part of a soldier's development.  It allows personnel to gain controlled exposure to risk in order to develop leadership, teamwork, physical fitness, moral and physical courage.
The training also improved other individual personal attributes and skills which are vital to the delivery of future operational capability.  It gave them the opportunity to try their hand at new and exciting activities to widen their abilities.
237 Squadron are based in Carters Green in West Bromwich, and are part of the wider 159 Regiment Royal Logistic Corps.  Their role is to help manage the Army's supply chain for exercises and operations.  This can include getting equipment, ammunition, food, weapons and replacement armoured vehicles to the right personnel at the right time.
There are also several other squadrons within the regiment who are based in Burton-on-Trent, Coventry, Stoke-on-Trent, Telford and Grantham.  You can find out more about the Army Reserve here.
To find out more about 237 Squadron and how to join, give them a call on 0121 500 2860.