Fifteen employers from the West Midlands region received their Ministry of Defence Employer Recognition Scheme (ERS) Silver Awards from West Midland Reserve Forces & Cadets Association (West Midland RFCA) at an awards ceremony on Thursday 30th October.
The ERS was launched in 2014 to recognise employer support for the wider principles of the Armed Forces Covenant. The scheme encompasses bronze, silver and gold awards for the employers that pledge, demonstrate or advocate support to Defence and the Armed Forces community. This includes the Reserves, Service leavers, Armed Forces veterans, the wounded, injured and sick, Cadets, military spouses or partners and their families.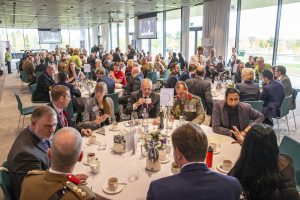 The outstanding winners for 2019 were City of Wolverhampton College, Global Radiodata Communications Ltd, Halfords Limited, Keele University, Kinetic Six Ltd, Kopek Security Ltd, Level Peaks Associates, New Model in Technology & Engineering (NMiTE), Police Credit Union Ltd, Q3 Academies Trust, Spectra Group (UK) Limited, The Royal Wolverhampton NHS Trust, Tile Cross Academy, Ubi-Tech (3R) Limited and Waymarker Financial.
Shelly Feaver, HR Manager (Workforce) and Armed Forces Champion at The Royal Wolverhampton NHS Trust, commented about their award: "I am very proud that our organisation has been presented with the Silver Award in recognition of the work that has been done across the Trust in support of the Armed Forces community and civilian employment. We recognise and value the extensive skills, professionalism and dedication that service leavers and reservists bring to all aspects of the NHS and the services it provides. We are now planning to further develop our support and commitment to the Armed Forces community and work towards achieving our Gold Award."
The lunch time event was held at the iconic National Memorial Arboretum, a fitting place for such awards to be presented, and Michael Collie, who you might recognise from BBC Midlands Today, kept the event running smoothly as the Master of Ceremonies.
Daniel O'Connor, an Army Veteran and Operational Transition Manager at Kinetic Six spoke at the event about the support he has received from his company, now a Silver ERS Award winner:
"The support I have received from Kinetic Six has directly led to me being in a position to join the Invictus UK 2020 team. Not only have they allowed me to attend training camps and the UK trials without me having to use any days Annual Leave Allowance, but they have taken an active position in encouraging me to train at my respective sports. I have full use of the gym at work and the entire team has joined a leader board for rowing (one of my selected sports) to help us all compete with each other to continue improving. Another Injured Veteran member of staff has repeatedly been given the same freedom to attend rehabilitation courses in his ongoing recovery journey. This has resulted in a huge benefit to his standard of living and subsequently his work output has improved."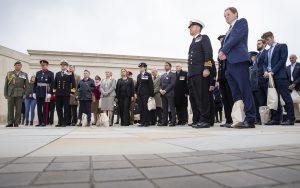 As well as highlighting the outstanding support of the employers the event also showcased the local Reserves and Cadets. Members of the Royal Naval Reserve, Army Reserve and Royal Auxiliary Air Force all had stands and the Sea Cadets were on hand to help the event run smoothly.
Rear Admiral Paul Marshall CBE, Assistant Chief Naval Staff Ships Acquisition – Senior Responsible Owner was welcomed as the guest speaker and to present all of the awards.
To conclude the event it was seen as fitting, in the lead up to Remembrance Day, to hold an act of remembrance at the Armed Forces Memorial, which was led by The Reverend Monsignor Robert Corrigan from 11 Signals and West Midlands Brigade.
One of West Midland RFCA's Regional Employer Engagement Directors, Philip Sinclair, voiced his appreciation to this year's winners: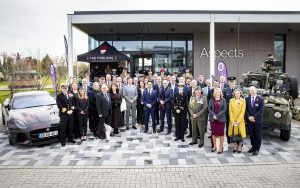 "I am particularly pleased and delighted to be able to welcome the West Midlands based Employer Recognition Scheme Silver Award winners for 2019 into the West Midland Silver alumni. As Regional Employer Engagement Directors, we seek to work very closely with our employers, and have made the journey with them, so it is a huge pleasure to see that their commitment and effort has been rewarded with this recognition.
Our class of 2019 have been particularly strong, with all displaying a strong commitment to show their support, and demonstrate it by employing members of the Armed Forces community within their workforce. We have the full range of the Armed Forces Community represented amongst those employers that have achieved the Silver Award recognition this year, Reservists, Veterans, including those that have been wounded, injured or become ill as a result of their service, spouses of serving members of the Armed Forces, and Cadet Force Adult Volunteers, which is fantastic! We now look forward to strengthening our links to them further, by supporting their journey towards gold award recognition. Congratulations, and thank you, your support is much appreciated."
If you're interested in finding out more about the Employer Recognition Scheme please contact West Midland RFCA's Employer Engagement team on wm-eeao@rfca.mod.uk or 0121 274 2227.