In October 2019 West Midland RFCA sponsored Coventry & Warwickshire Chamber's Women in Business Networking Lunch. The Event took place at the Ramada Hotel & Suites Coventry with inspirational speakers, the chance to network with peers and colleagues from across Coventry & Warwickshire, and concluded with a networking lunch.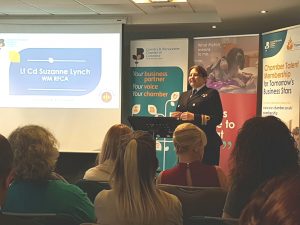 After a Welcome by the Chamber of Commerce and Ramada Hotel & Suites our military representative Lieutenant Commander Suzanne Lynch spoke about her experiences and highlights of a career in the Royal Navy.
Two further presentations followed, one from Ruth Freeman, CEO, The Myton Hospices and the second from Keri Egan, Branch Manager, Circle Insurance Services Ltd.
The event was well attending and the presentations were all well received.