Currently one third of the UK's Armed Forces are provided by the Reserve Forces.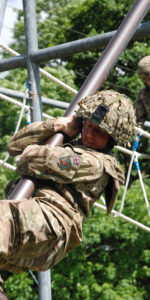 Men and women from all walks of life, serve in the Royal Naval Reserves (RNR), the Royal Marines Reserves (RMR), the Army Reserve and the Royal Auxiliary Air Force (RAuxAF). These individuals, known as Reservists,  give up  their time  to train and serve alongside the Regular Forces, both on exercise and operations.
Reservists have always played a key role within the Armed Forces, and with the increase in recruiting they are playing a bigger role than ever.  They also receive the same world-class training as their Regular counterparts, allowing them to carry out the same roles to the same exacting high standards.
Past operations where Reservists have had an important role include those in Iraq,  Afghanistan and Cyprus, as well as at home during the floods in Cumbria and the Severn Valley.
Being a Reservist allows the individual to gain new skills which can be transferable to their civilian careers, both during their training and deployment, but also during the adventurous training they can undertake.
You can also get other benefits including a bounty each year if you meet the qualifying criteria of attending certain training days and a certain number of hours, and from the 1st April 2015 Reservists automatically qualify for the Armed Forces Pension Scheme (AFPS 15).