It is estimated that there are 2.4 million veterans living in Great Britain.  40% of these are aged 16-64 years, with 60% of veterans aged 65 years and over.  Based on Ministry of Defence statistics it is believed that approximately 15,000 people leave the Armed Forces each year (statistics source: Veterans Factsheet 2020 / Annual Population Survey 2017).
The term veteran can include anyone who has served for at least one day in the Armed Forces (in the Regular or Reserve Forces) and also Service Leavers, who are in transition from, or have ceased to be, a member of the Armed Forces.
How do we help to support veterans?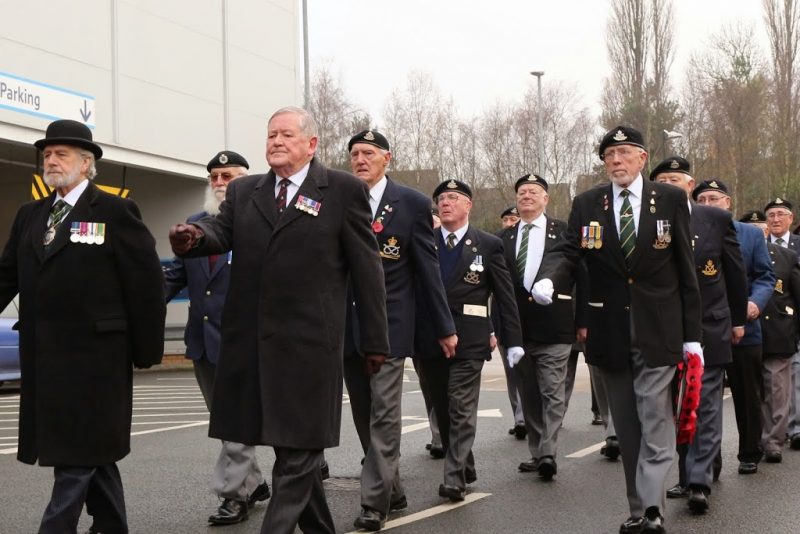 Part of our Association's remit is to build on existing links with veteran's organisations as well as creating new ones.
This allows us to strengthen the relationship between veterans, Reservists, and cadets within their local communities.
Our close relationships with local communities means we are often made aware of events, opportunities and initiatives that may affect veterans, which we then publicise to our network.
We also help to support veterans indirectly in the following ways:
Working with employers to promote the Armed Forces Covenant
Approximately 79% of working age veterans are employed in the UK.
Many veterans have high quality transferable skills which they have gained through their Defence training, including core skills in leadership, teamwork, determination, self-confidence, problem solving and the ability to work under pressure.  All of these skills are extremely desirable to civilian employers.
Our Association's Employer Engagement team work alongside the national Armed Forces Covenant team to raise awareness of the skillsets and qualities which veterans, Reservists, Cadet Force Adult Volunteers and military spouses can bring to the workforce.
Employers are encouraged to sign up to the Armed Forces Covenant, a series of voluntary pledges which outlines how their organisation will deliver this support.  In our region we are proud to currently have over 500 organisations who have pledged their support.
Organisations who are committed to supporting members of the Armed Forces community are then eligible to apply for the Defence Employer Recognition Scheme.  These awards encompass a bronze, silver and gold award depending on the level of support.
Signposting veterans transition networks and resources
Through our wider community engagement and employer engagement remit our Association is able to help share and promote networks which will benefit serving personnel who are leaving the Armed Forces and veterans.
Some of these networks include:
The Career Transition Partnership (CTP)
The Career Transition Partnership is there to help former service personnel to benefit from resettlement support, career transition advice, finding a new career and/or training opportunities. They are the official provider of Armed Forces resettlement.  You can visit their website here: https://www.ctp.org.uk/
Office for Veterans' Affairs (OVA)
The Office for Veterans' Affairs is part of the Cabinet Office.  They coordinate and lead the UK Government's efforts to make sure that the nation fulfils its duty to those who have served in the Armed Forces.  This involves collaborating with local government and devolved administrations to creative positive long-term transitions for former Service personnel, signposting government support for veterans and their families and celebrating the contributions that veterans make to society after leaving the Armed Forces.  You can find out more on their website here:  https://www.gov.uk/government/organisations/office-for-veterans-affairs/about
Veteran's Gateway
Veterans' Gateway launched in June 2017 and is made up of a consortium of organisations and Armed Forces charities, including The Royal British Legion, SSAFA – the Armed Forces charity, Poppyscotland, Combat Stress and Connect Assist.  It is the first point of contact for veterans seeking support and puts veterans and their families in touch with the organisations best placed to help with the information, advice and support they need.  This can range from healthcare and housing to employability, finances, personal relationships and more.  You can find out further details here: https://www.veteransgateway.org.uk/
Forces Families Jobs
Forces Families Jobs promotes training and employment opportunities for family members of currently serving UK military personnel.
You can apply for jobs and access employment and training opportunities with companies and organisations who are forces family friendly. More details can be found on their website here: https://www.forcesfamiliesjobs.co.uk/
Additional useful resources
There are also many military charities who have resources at local and national to support veterans and their families: