The RAF Reserves unit within the West Midlands is No 605 (County of Warwick) RAuxAF Squadron located at RAF Cosford.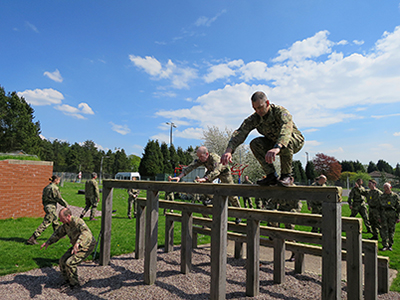 605 (County of Warwick) Squadron's Reservist positions are open to both males and females, ranging from 18 – 55 years of age.
All necessary training is provided and previous military experience is not essential. For those individuals interested in joining the Squadron, further information can be found by either accessing the RAF Recruitment website or ringing 0345 606 9069. The Squadron primarily employs Reservists in three logistic disciplines and for the Royal Air Force Police.
Logistic Drivers help to keep Royal Air Force personnel and equipment moving, ensuring that they are available in the right place at the right time. In this role you could operate a range of vehicles from light motor vehicles, minibuses and large goods vehicles to specialist airfield equipment.
Logistic Suppliers are a key element of the Royal Air Force. They play a vital role in the delivery of 'Air Power' by providing the logistical supply support required to enable the Royal Air Force to fulfil its operational and peacetime obligations. Suppliers are responsible for the through-life management of Service assets from the receipt, storage, handling, accounting and distribution of equipment to their disposal/destruction.
Logistic Chefs provide a complete range of catering support for the Royal Air Force. It ranges from an individual catering for hundreds of personnel in one of the messes on base to operating in a deployed field kitchen in an austere environment.
Royal Air Force Police Reserves provide additional general police duties e.g. aviation force protection & air transport security and specialist capabilities to the Royal Air Force Police Force e.g. special investigations & intelligence branch.

RAF Reserves General Information
Who can join?
To join the RAF Reserves you need to be between 18 and 50, although those up to 55 years may be considered if they have previous service. You must be a citizen of the United Kingdom, Commonwealth or Republic of Ireland and should normally have lived in the UK for at least five years.
What is the commitment?
Most squadrons train for one weekend a month with an additional 2-week annual training camp - often abroad. You should be willing and able to commit to a total of 27 days per year (although some Reservists undertake many more days' annual training).
What is the reward?
You will be paid a similar daily rate of pay as the Regular RAF for all training plus travel expenses and receive an annual tax-free bounty (£424 in the first year, rising to £1,674 after 5 years) if you complete the requisite number of training days per year.
The RAF Reserves have a well-earned reputation for retaining their volunteers, due in part to the satisfaction that is derived from doing varied and exciting jobs and part from the fact that there is an active social life which Squadron members enjoy. There is also plenty of opportunity for adventure training which can include activities such as skiing, canoeing, mountain climbing and much more.