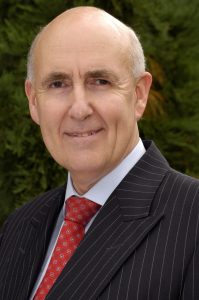 Education and Employment
Colonel (Ret'd) George Marsh MBE TD DL was educated at King Edward's School in Birmingham and Sheffield University. Following which he went into a career in construction and is now chair of Arden Estate Partnerships based in Coventry and providing estate solutions to the healthcare sector.
He has been involved in education governance for 30 years, formerly as Chair of Governors and Pro-Chancellor of Coventry University and currently as a Foundation Governor of The Schools of King Edward VI Schools in Birmingham where he takes a particular interest in finance, buildings and the Combined Cadet Force.
Military Career
Alongside his civilian career and commitments George was commissioned into the Territorial Army (TA), now Army Reserve, at Sheffield Officer Training Corps in 1970. He served for 30 years in the Royal Engineers (RE), which culminated in the command of the RE Specialist TA. Between 1996 and 1999 he had the honour of being appointed as the aide-de-camp to The Queen.
West Midland RFCA
He has served on the Board of the West Midland RFCA since 2007, using his specialist knowledge as the chair of the Finance and Estates Sub-Committee and the national Estates group.
Lieutenancy
George has served as a Deputy Lieutenant (DL) of the West Midlands County since 2013 and served as Vice Lord-Lieutenant of West Midlands from 2015 – 2017 and acting Lord-Lieutenant from September 2015 – December 2016 when he hosted The Queen, Duke of Cambridge and six other members of the Royal Family.
The duties of the Lord-Lieutenant include arranging Royal Visits, promoting honours and awards, presenting certain awards on behalf of The Queen, taking an interest in all aspects of the WM community and supporting the Armed Forces in the County, particularly Reserves and Cadets.
As a DL, he currently leads both the Armed Forces and Coventry DL's Groups within the West Midlands Lieutenancy, both with a busy programme of events representing the Lord-Lieutenant in carrying out his duties.
He was appointed MBE in the 2020 New Year's Honours List for his service to communities in the West Midlands.