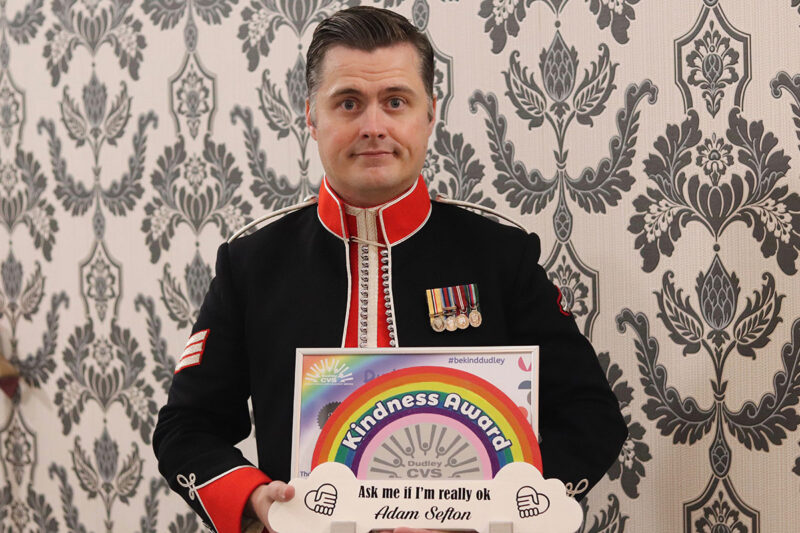 Members of the Dudley community have been recognised for stepping up to make a difference to the lives of others in their local area.
Dudley Council for Voluntary Service (Dudley CVS) recently hosted its AGM and Kindness Awards 2021 at the Brierley Hill Civic.  This year's awards theme celebrated the abundance of kindness in Dudley's communities, highlighting the achievements of individuals and volunteer groups who have made a positive difference over a difficult year.
One of this year's awards categories focused on those people who make others feel that they are not alone, that they have someone to talk to if needed – and will be that person who will ask the question: 'Are you ok?'
Sergeant Adam Sefton from B Squadron The Royal Yeomanry – an Army Reserve unit located in the heart of Dudley town centre – was nominated for his dedication to supporting their unit members.
As Regimental Engagement Mentoring Support Officer for both the unit in Dudley and their partner unit at D Squadron in Telford, he regularly works with new recruits, current Army Reservists and fellow staff members to get the best out of their civilian and military lives.
With the nomination highlighting how his support has helped to positively change the lives of others, and how much the unit appreciates his commitment, Sergeant Sefton was crowned as the overall winner of the 'Ask me if I'm really Okay' award.
Sergeant Sefton commented, "Being nominated for the Dudley Kindness Awards was a great privilege. My role at the unit is recruiting, which involves working with both new and existing members of the squadron.  As a squadron we try to make everyone feel welcome when they join us, and help new recruits to find a purpose and support them throughout their Army Reserve careers.
"Learning how to support others in terms of mental health and wellbeing are aspects of my role I have developed whilst I've been at the squadron. I see this as a normal part of my role, which is one of the reasons I felt very humbled to not only be nominated, but to also win the award.
"The individuals, community groups and organisations who were nominated for this year's awards were all truly inspirational – it was fantastic to hear all about the positive things they have been doing within the Dudley community to make it a better place."
Major Adam Tyler, Officer Commanding for B Squadron the Royal Yeomanry added, "I'm delighted that Sergeant Sefton has been publicly recognised for the tremendous work that he does with our soldiers and community.  As a Regimental Engagement Mentoring Support Officer his core role is to recruit and nurture prospective reservists, but over and above this he delivers a wraparound service to ensure the wellbeing of all candidates.  Always willing to lend a helping hand to get people back on track, he's built strong links with community partners to provide advice and support and enable individuals to find jobs and receive the help that they need."
Tracy McClymont was also awarded as highly commended within the same category, for her help in supporting a friend who encountered domestic abuse.
You can read more about this year's awards and the winners on the Dudley CVS news story.
B Squadron the Royal Yeomanry is an Army Reserve unit based in Dudley town centre.  They are a light cavalry regiment with a specialism for reconnaissance, and they often use light armoured vehicles fitted with high-tech weaponry and communications systems.  You can find out more about opportunities available with the Army Reserve here.
Published 29/10/2021