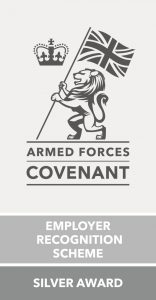 West Midland Reserve Forces & Cadets Association (RFCA) are very pleased to announce that 26 organisations in their region are confirmed as Employer Recognition Scheme (ERS) Silver Award winners for 2023.
This Ministry of Defence award recognises companies for their support to the Armed Forces community, including Reservists, Veterans, spouses, Cadet Forces Adult Volunteers and Cadets. Silver award holders must demonstrate a number of positive measures and policies in their organisations, which actively support members of the Armed Forces community.
The silver status requires employers to ensure:
That members of the forces community are not disadvantaged in their recruitment and selection process.
That all positive policies relating to defence personnel are internally publicised.
That they employ at least one individual from the armed forces category that their nomination emphasises.
If required, that they have demonstrated support to Reservist mobilisations.
That they align their values with their Armed Forces Covenant.
West Midland RFCA would like to congratulate all of their region's winners for this year. The organisations cover all of the regions counties and come from a wide range of sectors including education providers, NHS Trusts, charities, local authorities and more.
This year's winners broken down into counties are:
Herefordshire
Providence Global ITF Limited
Separ International
Wye Float Limited
Shropshire
Allsports Coaches Coaching Academy CIC
Career Pursuit CIC
Shropshire Community Health NHS Trust
Wrekin Housing Group
Staffordshire
The National Memorial Arboretum
Staffordshire Police
Staffordshire University
Warwickshire
Apex Recruitment
Coventry and Warwickshire Partnership NHS Trust (Op Courage, NHS Veterans Mental Health)
Risk Evolves Limited
Unmanned Air Veterans Limited
West Midlands
Marston's PLC
Sandwell College
St. Modwen Properties PLC
Steps to Work
STS Aviation Services UK Limited
Summit Learning Trust
West Midlands Trains
Worcestershire
Herefordshire and Worcestershire Health and Care NHS Trust
RT Consulting
Sanctuary Group
Worcestershire Acute Hospitals NHS Trust
Worcestershire County Council
Graham Whitehouse, Philip Sinclair and Cat Suckling, Regional Employer Engagement Directors for West Midland RFCA commented on the awards:
"The Ministry of Defence's Employer Recognition Scheme encourages employers to support Defence and inspire others to do the same. The scheme encompasses Bronze, Silver and Gold Awards for organisations that pledge, demonstrate and advocate support to Defence and the Armed Forces community, and who align their values with the Armed Forces Covenant.
"We are absolutely delighted that 26 employers across our region have been recognised by the Ministry of Defence's Employer Recognition Scheme Silver Award this year.  Having worked closely with these organisations over a number of months and years, we know of the commitment that they show and demonstrate, and applaud their recognition, which is justifiably deserved.
"Many congratulations to them all, we look forward to continuing our work with them."
The ERS was launched to recognise and reward employers who support Defence and inspire others to do the same.  To find out more about the ERS and Armed Forces Covenant visit https://www.wmrfca.org/employers
Published 28/06/2023