Stoke on Trent College is committed to the Armed Forces and has been officially recognised with a Bronze Award from the Ministry of Defence Employer Recognition Scheme.
The College recently signed the official Armed Forces Covenant making a pledge to become a Forces Friendly employer and support those serving in the Armed Forces, veterans and their families as well as being a great educational institution for future Armed Forces applicants.
The Bronze award was presented to Lisa Capper MBE, CEO and Principal at Stoke on Trent College, during a special event held on Monday 20th March. The award recognises the College's ongoing commitment to the Armed Forces community, with values that align to those set out in the Armed Forces Covenant. Also in attendance were Councillor Lillian Dodd, Armed Forces Champion for Stoke on Trent City Council, College staff, Public Services students and representatives from the Ministry of Defence.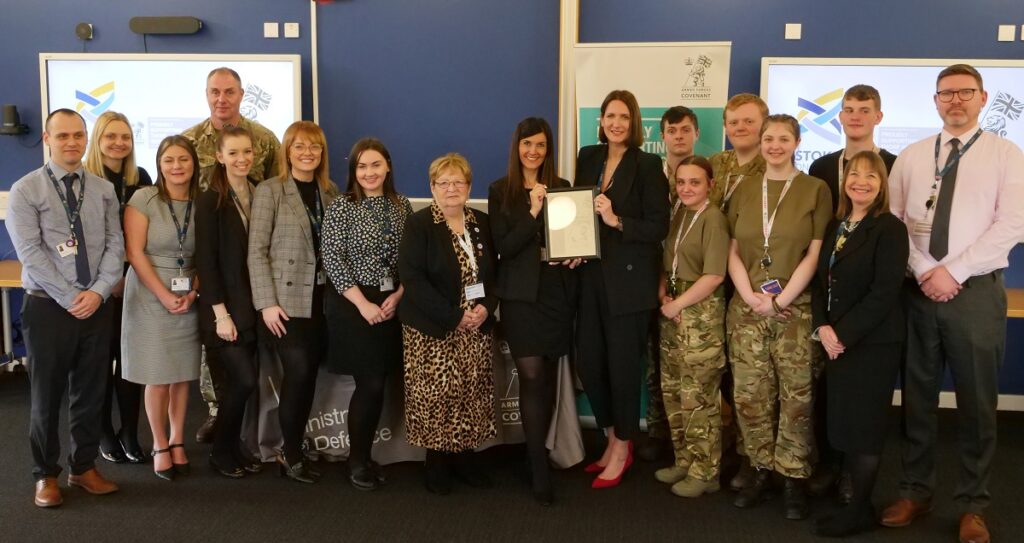 Lisa Capper MBE, said; "I am delighted that Stoke on Trent College has been recognised in achieving the MoD's Bronze award through the Employer Recognition Scheme.
"As an organisation we will continue to promote our support to the Armed Forces community, having pledged to support those who serve or have served in the Armed Forces. We are Armed Forces-friendly and wish to encourage recruitment of Reservists, Armed Forces veterans, Cadet Force Adult Volunteers and military spouses/partners who can offer much to our College community and students."
The Defence Employer Recognition Scheme has three categories – Bronze, Silver and Gold – based on the levels of support that an employer provides.
Nova Abela, Chief Human Resources Officer at Stoke on Trent College added; "In our employment practices and in our academic study courses, we proactively demonstrate and advocate support for the Armed Forces and their communities, by enabling easier and wider access to our job vacancies and valuing 'real life' experience as well as qualifications.  In addition, we offer support through our wide ranging CPD for our employees and through a variety of supportive health & wellbeing related policies, procedures, provisions and benefits as well as providing a supportive, nurturing and flexible College culture and ethos."
The Covenant is entering its 12th year and has now been signed by 9912 businesses (as at 20th March 2023), both large and small.
The College wishes to actively improve its appeal to ex-service personnel to help them back into civilian life and careers and to recognise the immense value that their skills, experience and knowledge brings to an organisation.
Find out more about the Employer Recognition Scheme.
Published 01/04/2023