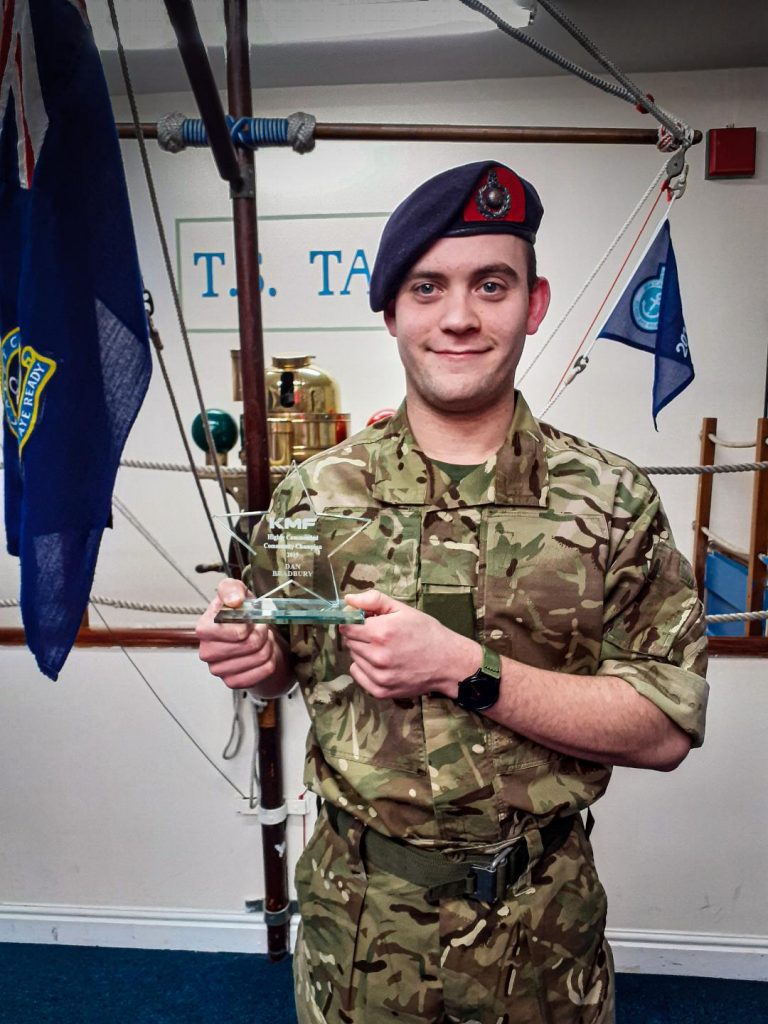 A volunteer with the Royal Marines Cadets has picked up an award from his employer in recognition of his voluntary work.
Acting Sergeant Dan Bradbury was carrying out an apprentice at KMF Precision Sheet Metal Ltd, based in North Staffordshire.
As part of the programme their apprentices take part in an annual community challenge in which they are asked to take part in 50 hours of community service, which can include working with young people or helping to complete projects to benefit the local community.
When KMF learnt of his voluntary work with the Royal Marines Cadet Detachment at the Stoke-on-Trent unit, they presented him the "Highly Commended Community Champion for 2019" award to recognise his hard work and commitment to supporting local youngsters.
Dan has also now qualified as a Fabricator and Welder from his apprenticeship.  Previously Dan had been a cadet himself, and now after volunteering with the detachment for four years he explained his reasons for working with them.
He said "I like coming to the unit and helping the cadets.  I like the social aspect, and I see it as payback for what I gained as a cadet by helping the present cadets."
The Stoke-on-Trent detachment is a vibrant group made up of 9 Royal Marines Cadets, 16 Sea Cadets, and 13 Junior Sea cadets (Junior Sea Cadets are aged 10 to 12 years old).  Dan is one of a small number of instructors who dedicate their time each week to ensuring the cadets learn new skills, take part in adventurous activities, make new friends and ultimately have fun along the way.
They are actively welcoming adult volunteers to join their detachment, and also for any interested young people to join them as a Sea Cadet or Royal Marines Cadet.
Please contact them by email at stoke.unit@talktalk.net or on their Facebook page at Sea and Royal Marine Cadets Stoke on Trent https://www.facebook.com/StokeSCC/ for further information.
They parade on a Tuesday & Friday between 19:00 & 21:40.
You can alternatively contact them via their Unit land line on 01782 698703 (Tuesdays & Fridays only).
To find out more about joining the Cadet Forces as a cadet or adult volunteer take a look at our web page here.