Three cadets from Warwickshire have been appointed as the county's new Lord-Lieutenant's Cadets.  Drawn from across the uniformed Cadet Forces, they are selected for their individual merits and commitment to their respective units and local community.
The appointment is often the highlight of the cadet's career and the role involves accompanying the Lord-Lieutenant at Royal visits, high-profile civic and military occasions, and acting as an ambassador to the Cadet Forces.
The COVID-19 pandemic unfortunately meant that most civic events were cancelled or moved to the virtual sphere, which altered the experience of being a Lord-Lieutenant's Cadet for the 2020-2021 year. Whilst this limited the opportunities for the outgoing Lord-Lieutenant's Cadets to assist at official duties, all of the cadets were able to draw positive experiences and pride from their year in post.
Cadet Corporal Henden from the Rugby Royal Marines detachment commented on her role, "We didn't get to do many events but I was lucky enough to attend one event, which was the police awards evening, in which several Officers were receiving their 20-year service award.  That was a really good insight into what the police do and the events that the Lord-Lieutenant gets to attend, and what other events I would have been able to attend had this been a normal year.  But it's been a really big honour to have this position."
Reflecting on his achievements, Cadet Sergeant Rose from the Warwick School Combined Cadet Force (CCF) added, "It was an absolute privilege to be selected to become the Lord-Lieutenant's Cadet representing Warwickshire and the CCF, as I draw to the end of my career it is undoubtedly something I'll look back on with great pride and a real sense of achievement.
"For me my most memorable time in the CCF was attending the cadet leadership course at RAF College Cranwell.  Apart from meeting some great people, it taught me some great things about leadership and management; it will certainly serve me well in the future."
Cadet Staff Sergeant Parsons from Westfield House Detachment ACF said, "The current situation for the past year hasn't been too great, however it has been an honour to become the Lord-Lieutenant's Cadet, regardless of whether I did anything or not.  But I would like to congratulate the ones that are incoming and wish them all the best for the new year."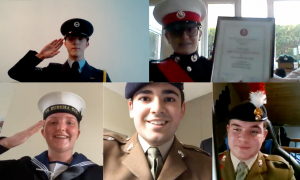 The 2020/2021 outgoing cadets are:
Cadet Staff Sergeant Parsons – Westfield House Detachment ACF
Cadet Flight Sergeant Blood – 121 (Nuneaton) Sqn ATC RAFAC
Petty Officer Cadet Edmunds – Stratford Sea Cadet Unit
Cadet Corporal Henden – Rugby Royal Marines Cadet Unit
Cadet Sergeant Rose – Warwick School CCF
Taking over their appointments for the forthcoming year are:
Cadet Sergeant Chan – Wyken Platoon ACF
Cadet Warrant Officer Alam – 29F (Rugby) Sqn ATC RAFAC
Petty Officer Cadet Reading – Leamington & Warwick Sea Cadet Unit
Congratulations to all of the new Lord-Lieutenant's Cadets on their appointments.  We wish the outgoing cadets all the best in their future endeavours.
Find out more about the Lord-Lieutenant's Awards.
Interested in finding out more about the Cadet Forces in our region? Read more about joining as a cadet or volunteer.
Published 05/07/2021