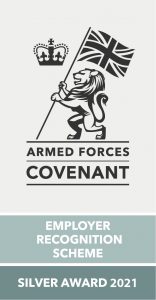 After what has been a challenging 18 months for all businesses, West Midland Reserve Forces & Cadets Association (RFCA) are very pleased to announce that 41 organisations in their region are confirmed as Employer Recognition Scheme (ERS) Silver Award winners for 2021. In addition a further nine employers have had their ERS Silver Awards from 2016 revalidated for their continued commitment.
This Ministry of Defence award recognises companies for their support to the Armed Forces community, including Reservists, veterans, spouses, Cadet Forces Adult Volunteers and cadets. Silver award holders must demonstrate a number of positive measures and policies in their organisations, which actively support members of the Armed Forces community.
The silver status requires employers to ensure:
That members of the forces community are not disadvantaged in their recruitment and selection process
That all positive policies relating to defence personnel are internally publicised
That they employ at least one individual from the armed forces category that their nomination emphasises
If required, that they have demonstrated support to Reservist mobilisations
That they align their values with their Armed Forces Covenant
West Midland RFCA would like to congratulate all of their region's winners for 2021. The organisations cover all of the regions counties and come from a wide range of sectors including education providers, NHS Trusts, charities, local authorities and security firms.
This year's winners broken down into counties are: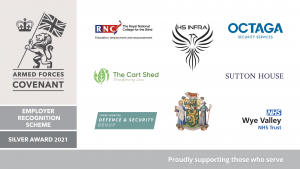 Herefordshire
3 Counties Defence and Security Limited
HS Infra Ltd
Leominster Town Council
Octaga Security Services Ltd
Royal National College for the Blind
Sutton House Limited
The Cart Shed Charity
Wye Valley NHS Trust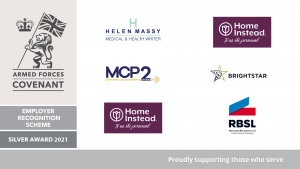 Shropshire
Bright Star Boxing Academy
Helen Massy, Medical and Health Writer
Home Instead Shrewsbury, Ludlow and Oswestry
Home Instead East Shropshire
MCP2 Ltd
Rheinmetall BAE Systems Land
Staffordshire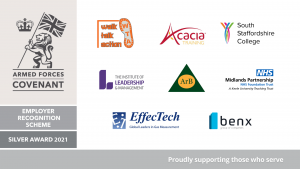 Acacia Training Limited
ArB Tree Care (Specialists) Ltd
Benx Limited
EffecTech
Midlands Partnership NHS Foundation Trust
South Staffordshire College
The Institute of Leadership & Management
Walk Talk Action CIC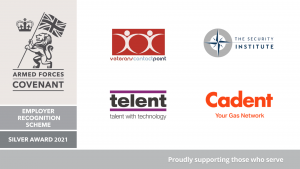 Warwickshire
Cadent Gas Limited
Telent Technology Service Limited
The Security Institute
Veterans Contact Point

West Midlands
Dudley Metropolitan Borough Council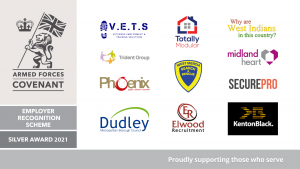 Elwood Recruitment
Four Circles Group Ltd t/a SecurePro
Kenton Black Ltd
Midland Heart
Midlands Recruiting Limited t/a Veterans Employment & Training Solutions
The Phoenix Collegiate
Totally Modular Ltd
Trident Group
WAWI Project
West Mercia Search & Rescue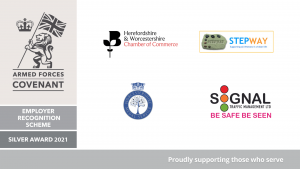 Worcestershire
Herefordshire and Worcestershire Chamber of Commerce
Signal Traffic Management Ltd
Stepway
Worcestershire Medal Service Ltd
Revalidations from 2016 are:
Birmingham City Council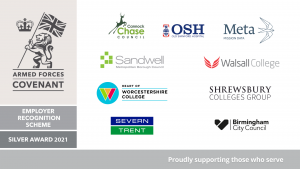 Cannock Chase District Council
Heart of Worcestershire College
Meta Mission Data
Old Swinford Hospital School
Sandwell Metropolitan Borough Council
Severn Trent PLC
Shrewsbury College Group
Walsall College
Dr Gavin Squire CChem FRSC, Chief Executive Officer of EffecTech Group commented,
"I was thrilled to receive our notification that EffecTech has been formally recognised for a Silver Award under the Defence Employer Recognition Scheme. It gives me a sense of immense pride to be in a position to be able to support and recognise the sacrifices made by current and past Armed Forces personnel and to their wider families.
"It is only right that those businesses who are able to do so provide opportunities for employment and other forms of engagement through positive treatment during recruitment.  After all, such people have had the best training in life skills any employer could wish for; skills that can be deployed to provide quick wins for any ambitious business.
"By giving back in our small way as payment for their selfless courage I hope that our business can make a difference to the lives of such amazing people."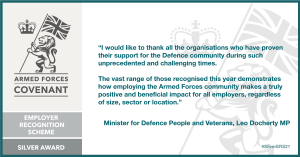 Alan Pibworth MCIPS, Managing Consultant for MCP2 Ltd said,
"MCP2 is very proud to be both a signatory of the Armed Forces Covenant and to receive Silver Employer Recognition Scheme status for pledging our support.  As a veteran-established company, with links and service across all 3 Services and the Civil Service, we look forward to working with West Midland RFCA and Defence Relationship Management to support and publicise the Armed Forces Community amongst colleagues and clients alike.
"For a small organisation MCP2 punches above our weight in delivering sustainable, viable and affordable outcomes for our customers. Social Value is reflected in all we do as a team and this approach is underpinned by our support for the Armed Forces community.  Our ethos and values are drawn from our collective experience, drawn from Service life and it is with pride, we take this message to our employees, our customers and the communities they serve".
Philip Sinclair, Regional Employer Engagement Director for West Midland RFCA commented on the awards,
"We are absolutely delighted that 50 employers across our region have been recognised by the Ministry of Defence's Employer Recognition Scheme Silver Award this year, including 9 that have had their Silver Awards from 2016 revalidated, demonstrating a continued and sustained commitment to supporting our Armed Forces community .
"The Defence Employer Recognition Scheme encourages employers to support Defence and inspire others to do the same. The scheme encompasses Bronze, Silver and Gold Awards for employer organisations that pledge, demonstrate or advocate support to Defence and the Armed Forces community, and who align their values with the Armed Forces Covenant.  Having worked closely with these organisations over a number of months and years, we know of the commitment that they show and demonstrate on a daily basis, and applaud their recognition, which is justifiably deserved.
"Many congratulations to them all, we look forward to continuing our work with them."
The ERS was launched to recognise and reward employers who support Defence and inspire others to do the same.  Find out more about the Employer Recognition Scheme or the Armed Forces Covenant.
Published 28/07/2021