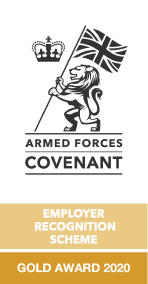 The most supportive organisations for Britain's Armed Forces such as Microsoft Ltd, Greater Manchester Police and the Post Office from both the private and public sectors have been announced today, 30 July 2020.
The Employer Recognition Scheme Gold Awards continues to grow in strength year on year.  To win an award organisations must demonstrate that they provide ten extra paid days leave for Reservists and have supportive HR policies in place for Veterans, Reserves, Cadet Force Adult Volunteers and Spouses and Partners of those serving in the Armed Forces.
They also advocate the benefits of supporting those within the Armed Forces community encouraging others to sign the Armed Forces Covenant and to engage in the Employer Recognition Scheme.
2020 marks the seventh year of the awards scheme and this year 47% of winners are either Micro organisations or SMEs and 38% are public organisations. This demonstrates both the growth in numbers and the depth of supportive employers who cover a wide range of sectors and company size. This year's 127 award winners join a group of 226 winners from previous years bringing the total to 353 organisations who can share their knowledge and experience on the benefits of employing those from the Armed Forces community.
Johnny Mercer, Minister for Defence People and Veterans said:
"The breadth and diversity of the winners this year shows how business support for the Armed Forces continues to grow no matter the sector, company size or location. I am grateful for the positive attitude and flexible policies these organisations have adopted towards the defence community, which is testament to the fantastic contribution our serving personnel, veterans and their families can make to any organisation.
"I am delighted that so many companies are supporting our people and that, through this scheme, we can give them the public recognition they deserve."
The President of Vetforce UK at Salesforce, James Moore, from one of the winning organisations commented:
"This award is testament to our continued commitment to support the forces community, whether this be through the provision of career transition assistance, by raising funds for military charities or championing the military community to our organisation. As a former Army Officer, I know first-hand the challenges of finding work after leaving the forces and feel honoured to work for an organisation like Salesforce which recognises the value members of this community can bring to the workplace."
In our West Midlands region we are delighted to announce and congratulate a record-breaking 15 organisations for gaining the scheme's highest award, with the gold status being awarded to:
Black Country Chamber of Commerce
Black County Housing Group
City of Wolverhampton College
Finning UK Ltd
Herefordshire Council
Highways England
Level Peaks Associates Ltd
N-Mite
The Royal Wolverhampton NHS Trust
Serve and Protect Credit Union
Spectra Group (UK) Ltd
Stoke City Football Club
Telford & Wrekin Council
Warwickshire County Council
WH Management Group
Thank you all your continued support and for going above and beyond to support the forces community.
Find out more about the Employer Recognition Scheme and how your business can benefit from supporting members of the Armed Forces community.