159 Regiment, Royal Logistic Corps (RLC) joined the three week long RLC Nordic skiing training exercise at the end of 2022.  The corps deployed to Hemsedal in Norway to train and compete at the RLC Nordic Skiing Championships. The team drove from Canley to Norway via the Euro tunnel into France and then onward to Germany for a ferry to Oslo and then a final leg through freezing conditions into the mountains of Norway, a total of nearly 900 miles!  Their newest novice team member commented; "I thought we would never get there when we had to start using snow chains at -20C, I have never felt freezing conditions like that before."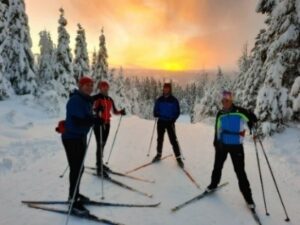 On arrival the team quickly settled into training with the team captain and coach using his expertise. To help them find their ski legs the use of shouts such as  'Ride the horse', 'Diagonal gait now', 'Make like a goalkeeper' and 'PUSH, PUSH, PUSH!!' were used.
They started from the basics by learning two different techniques: first the classic style and then skating.  They also worked on flexibility and mobility which included early morning runs and stretches or yoga followed by cold showers for those who were brave enough!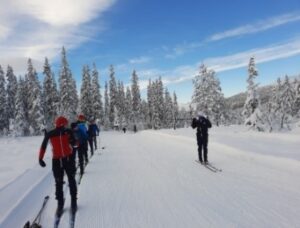 The team had to complete five races which required skate and classic techniques over distances ranging from 5 to 20kms.  Their first individual freestyle race was 5km for the females and 7.5km for the males. All participants were really pleased to finish without too many falls and with respectable times, including a 1st in category for two participants.
Next was the first team race, the 7.5km for the females and 10km freestyle for males and they managed to outperform all the other Reservist teams for first place in the Men's Reserves team category.
Between racing and training the team were busy preparing relay handover drills, waxing skis and revising for the patrol race. The team took second place Reserve team in the 5km relay race, which was a great achievement during the coldest conditions of the week.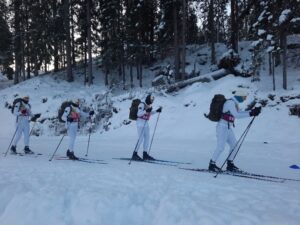 The Patrol Race was the decider event for Champion Reserve team.  The tests included Military Knowledge written papers, a biathlon-type laser shoot and the team inspection followed with a modified classic ski 'best effort' course carrying 10kg packs. The team performed brilliantly in the lead-in including a top score shoot. Unfortunately the patrol sadly had a Did Not Finish due to injury, so were not able to secure the Champion Nordic Reserve Unit they were so close to winning. However, the team did come away with medals! Corporal Moloney as Champion Female Senior Reserve, Corporal Busk with Champion Male Senior Reserve and Major Taylor with Champion Veteran Reserve and the overall Champion Reserve. They will be returning next year to hopefully win the Champion Nordic Reserve Unit!
Find out more about 159 Regiment RLC.
The West Midland RFCA contributed to cost of this training through income generated from Alternative Venues.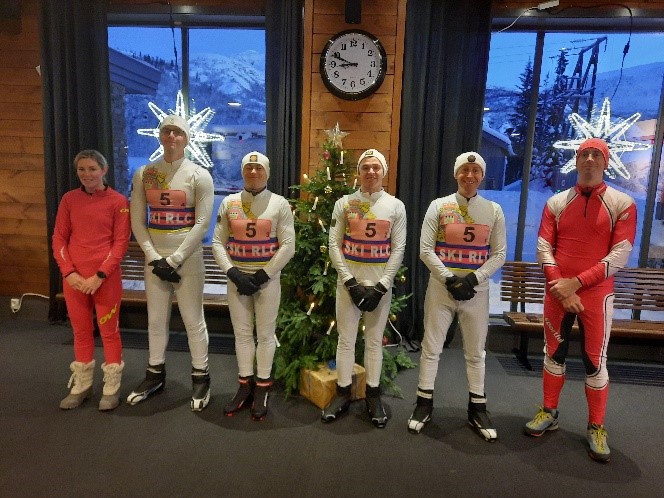 Published 01/05/2023