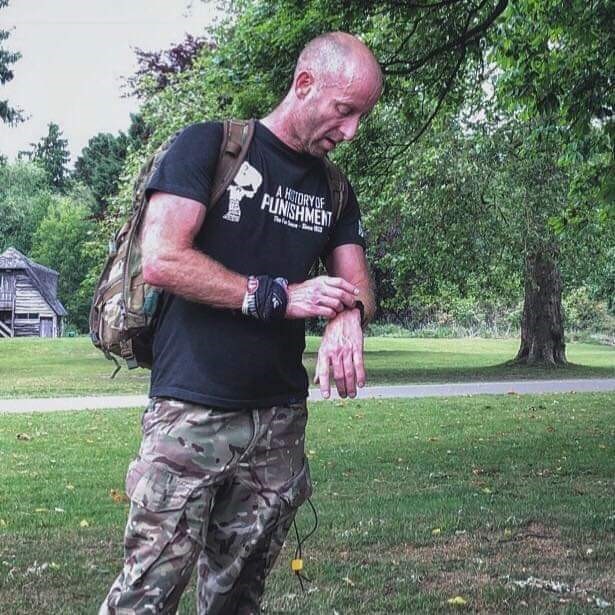 An Army Cadet Force (ACF) instructor from Shropshire has risen to the challenge of inspiring their cadets to remain active, healthy and upbeat during the national lockdowns.
Staff Instructor Dillon James served in the Army for a number of years as an infantry soldier before working for the local council, and more recently, to their benefit, joining Shropshire Army Cadet Force as an adult instructor in the Bridgnorth Detachment.
His positive approach and enthusiasm to get involved with projects hasn't gone unnoticed by his fellow instructors.  Shropshire ACF's Regional Sports Advisor, Major Andy Saywell, praised his keen approach by saying, "Anytime a new project starts he is there, first in the queue, asking 'what can I do to help?'
"It is individuals like him who are the key success to anything we do in life and we count ourselves very fortunate to have his support and generosity in the Army Cadet Force."
The past year has been difficult, with each day bringing fresh challenges.  The Cadet Forces' activities have been heavily affected; without the ability to meet face-to-face, some real ingenuity is required to translate their usual activities into safe, Covid-19 secure, fun opportunities.
Arranging virtual training, meetings, promoting fundraising objectives and general activity support are aspects that all of the volunteers have had to adapt to with ever-changing guidance. The Bridgnorth Detachment has benefited enormously from SI James' support in these areas.
Major Saywell added, "One of our first large activity challenges was back in August 2020 where I, as Regional Sports Adviser, needed some support to get the West Midlands Region Army Cadet Force into shape – there was a national 300 mile cycling challenge laid on.
"He registered, advertised the challenge on social media, took part and enthused both the cadets and Cadet Force Adult Volunteers alike to participate.  We had some incredible results, with one of our cadets even winning the regional photography competition within the event itself to boot.
"Every day I would check his progress and you would think he'd been asked to participate in the Tour de France – his mileage was nothing short of incredible (I'm sure he won't mind me mentioning but all the more impressive being 49 years old!)"
Christmas brought a new competitive event to the Shropshire ACF horizon.  'Walking Home For Christmas' was an initiative created by Walking with the Wounded, a military charity who support those who have served, and their families.  During December they launched their event as a way to raise funds in accordance with social distancing, asking participants to set their own walking challenges and sponsorships.
The Army Cadet Force signed up as a national organisation and raised in excess of £60,000 towards the £330,623 total.  Shropshire ACF called on the expertise of Dillon to rally their county into action, and with his passion (and maybe a bit of friendly badgering to cajole the adult volunteers and cadets to sign up) the county contributed nearly £3000 in funds, despite technically being one of the smallest counties population wise.
For his part of the challenge he successfully completed a 25-mile walk carrying 25kg, and then additionally walked with other adult volunteers to support their incredible efforts.
Shropshire ACF's latest challenge is to run, walk or jog as many miles as they can during February 2021.  We are reliably informed that SI James is regularly adding to his distance on Strava come rain or shine across all sorts of terrain, leading the county and region with his physical prowess – he manages to casually put in the odd 20km bike ride to make it worth his effort!
Major Saywell shared more of Dillon's achievements to date, commenting, "At a Detachment level he supports his Detachment Commander in everything he does both in rallying the troops and organising lessons via Zoom.  All of which delivered in a unique, interesting and enthusiastic manner.
"The cadets can count themselves very fortunate, and face-to-face activities will be even better when we get there.
"He has also enlisted as Company Sports representative to support my role as Sports Officer – I couldn't wish for a better role model for the cadets.  He is very keen to support the county and regional challenges we face in due course, bringing with it a renewed vigour that I know will certainly 'Inspire to Achieve'."
Shropshire ACF are very proud of all of their instructors and volunteers, especially with how they have still managed to creatively deliver an incredible amount of support to the cadets during a tough year.  Despite juggling work, caring for family members and home-schooling, their dedication to developing the lives of young people has been inspiring.
A big thank you and well done from us all!
Shropshire ACF is home to over 500 cadets and 110 volunteers, spread across 22 detachments in the county.   Volunteers come from all different backgrounds and can gain new skills, develop new knowledge and even earn vocational qualifications – all whilst making a positive difference to the lives of young people.
If you are looking for a way to use your spare time to benefit your local community, volunteering opportunities with the cadet forces might be the perfect opportunity for you.  Find out more about how to get involved with our Cadet Forces.