Fifteen businesses from the West Midlands region have been presented with the prestigious Defence Employer Recognition Scheme (ERS) Gold Award at a special ceremony in Cardiff.
The joint regional event held on 17th November at HMS CAMBRIA saw employers from Wales, West Midlands and Wessex Reserve Forces & Cadets Associations' (RFCA) recognised for the outstanding support they give to the Armed Forces community.
This year marks the first time that the Gold Awards have been presented in regional events due to the unprecedented high number of winners, 140 in total. Four regional ceremonies are taking place in Edinburgh, Leeds, London and Wales.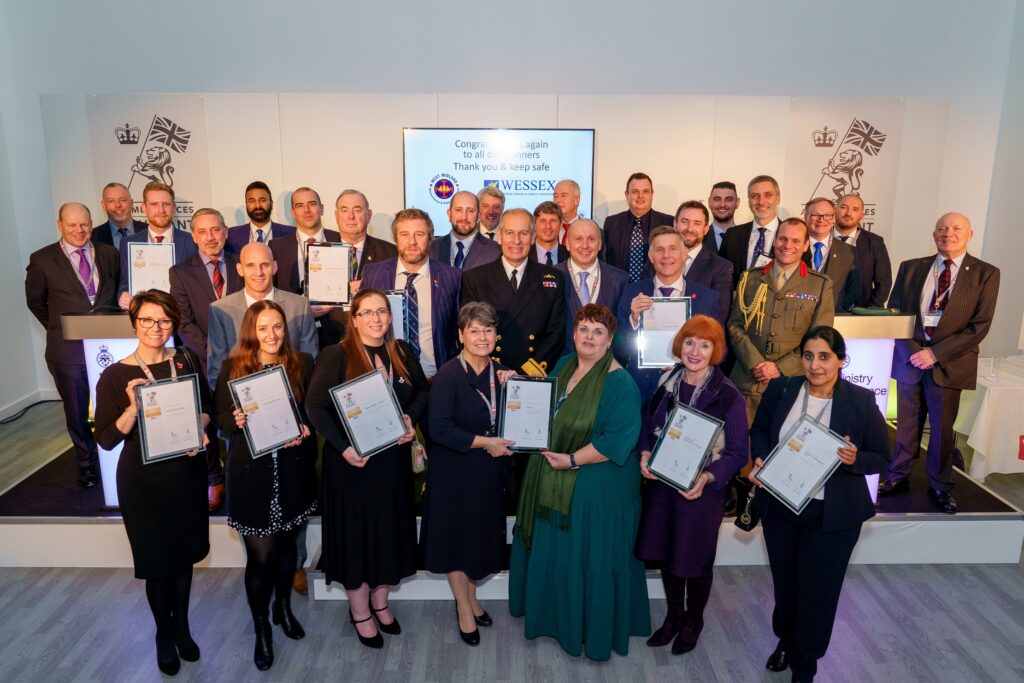 For the first time there are 15 winners representing all six counties within the West Midland RFCA's region, bringing the regions total Gold Award holders to 51. The winners for 2021 are:
Academy Transformation Trust
Ammo & Company
Aston University Engineering Academy
Forces Resettlement Services CIC (BFRS)
GRC Ltd
Greater Birmingham Chambers of Commerce
Horiba Mira Ltd
Kinetic Six Ltd
Landau Ltd
Matrix Academy Trust
Staffordshire Chambers of Commerce
Ubi-Tech (3R) Ltd
University Hospitals Birmingham NHS Foundation Trust
Wace Morgan Limited
West Midlands Combined Authority
Bureau Veritas and Pertemps have also had their Gold Awards from 2016 revalidated after their continued support to, and advocacy for, the Armed Forces.
Steve Slater, Managing Director of GRC Ltd, said, "With over 50% of our workforce comprised of former Armed Forces personnel and family members of those currently serving, GRC have always endeavoured to support the forces community and are extremely proud to achieve the Gold Award. We highly recommend the Armed Forces Covenant to other businesses large or small and in any industry – it's such a simple process, it can help you attract and retain staff and above all show your support to those serving, or who have served in the Armed Forces, and their families."
In addition, there were 10 winners from Wales and 14 from the Wessex RFCA area (including one revalidation).
Representing the highest badge of honour, Employer Recognition Scheme Gold Awards are awarded to those that employ and support those who serve, veterans and their families. This year's awardees brings the total number of Gold holders nationally to 493.
West Midland RFCA's Regional Employer Engagement Directors Philip Sinclair and Cat Suckling said, "We are delighted that 15 organisations from across the West Midlands have been awarded the Defence Employer Recognition Scheme Gold Award and we are incredibly proud to have been a part of the employers journey since they first pledged their support through the Armed Forces Covenant.
"Achieving the Defence Employer Recognition Scheme Gold Award is a significant achievement, requiring the winning organisations to be able to demonstrate exceptional advocacy of the Armed Forces Covenant, and support for and to the Defence family. This is particularly poignant in 2021 due to the majority of the winners advocacy periods being under COVID-19 restrictions, forcing them to be creative and dynamic in their efforts to champion the Armed Forces community."
To win an award, organisations must provide 10 extra paid days leave for Reservists and have supportive HR policies in place for veterans, Reserves, and Cadet Force Adult Volunteers, as well as spouses and partners of those serving in the Armed Forces.
Organisations must also advocate the benefits of supporting those within the Armed Forces community by encouraging others to sign the Armed Forces Covenant and engage in the Employer Recognition Scheme.
This year, the winning organisations include NHS trusts, educational institutions, financial services, hotels, charities, law firms, police services, football clubs and museums. Nearly 50 per cent are a small or medium-sized enterprise and 72 per cent are private companies, demonstrating the wide range of organisations offering support to the military community regardless of size, sector or location.
The awards were presented jointly by Rear Admiral Beckett CBE, Chief Strategic Systems Executive and UK Project Officer for the Polaris Sales Agreement at DE&S and Brigadier .
To find out more about the Employer Recognition Scheme and how your business can benefit from supporting the Armed Forces Community visit www.wmrfca.org/employers
To view the list of organisations who have signed the Armed Forces Covenant visit https://www.armedforcescovenant.gov.uk/get-involved/who-has-signed-the-covenant/
You can view more photographs from the event in our ERS Gold 2021 gallery.
Published 19/11/2021