Four Shropshire-based organisations publicly committed their support for the Armed Forces community at an outreach event for the Armed Forces and veterans.
Run by Shropshire Council, the outreach session welcomed Shrewsbury Men's Shed, Shropshire Community Leisure Trust and Shropshire Community NHS Trust to sign the Armed Forces Covenant; a voluntary pledge to ensure that those who serve or have served in the Armed Forces, and their families, are treated fairly. Radfield Home Care Shrewsbury & Oswestry also enhanced their existing covenant pledges.
By raising awareness of the covenant within Shropshire more companies are benefiting from implementing forces-friendly policies in their workforce. They join the increasing number of organisations across the UK who are signing up to the initiative.
The event at Palmers Café in Shrewsbury is one of several locations across the county which hosts drop-in sessions for veterans, service leavers and their families to meet informally to chat, have a brew and access resources from service charities and key contacts.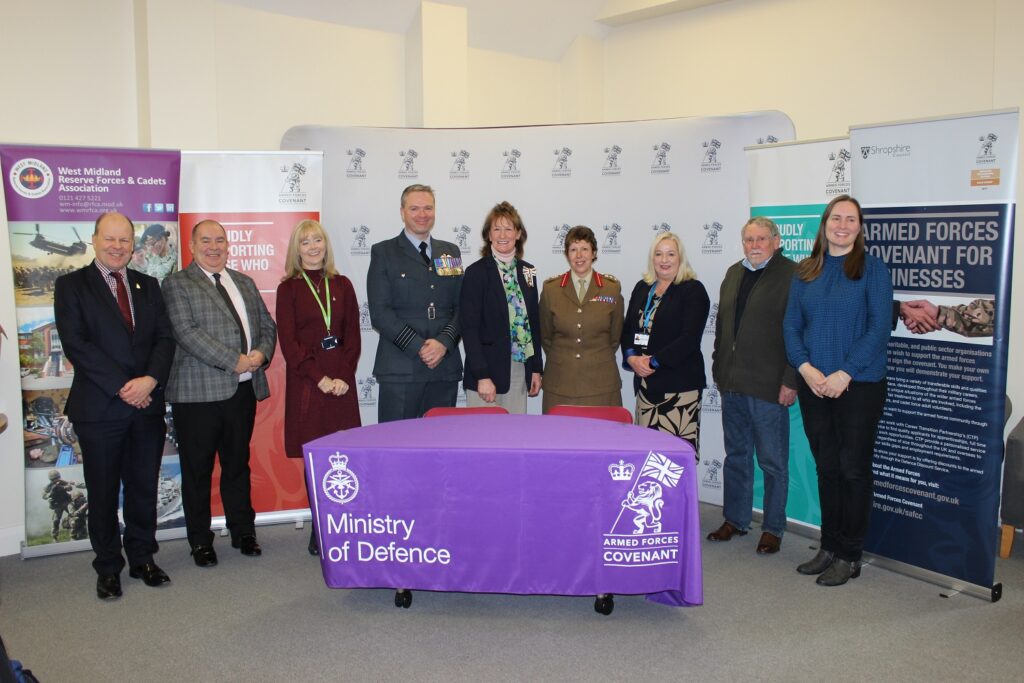 The sessions form part of Shropshire Council's ongoing commitment to upholding the principles of the Armed Forces Covenant and supporting the forces community in their county.
As well as celebrating the new signatories, Shropshire Council celebrated their reaccreditation as a gold level employer, with the Lord-Lieutenant of Shropshire presenting the council with their Defence Employer Recognition Scheme (ERS) Gold Award 2022 to Councillor Ian Nellins.
The council was originally awarded their Gold Award in 2017. Employers who meet eligibility criteria with a consistent level of support can have their awards revalidated every five years.
During the outreach session Sarah Kerr, the council's Armed Forces Outreach Support Coordinator, was also congratulated on gaining an award for her exceptional work to support veterans within the Shrewsbury and Telford NHS Trust veteran community.
Members of the forces community are welcome to attend any of the council's upcoming outreach sessions.
Find out more about how Shropshire Council support the Armed Forces in their county. Learn more about the Armed Forces Covenant and Employer Recognition Scheme.
Published 31/01/2023.