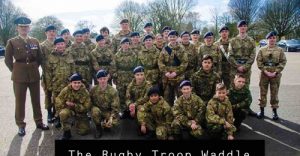 At Rugby Troop Army Cadet Force (ACF) fundraising is something they are passionate about and have already embarked on their next fundraising mission.
The Rugby Troop Waddle is raising funds for the Royal Corps of Signals charity and will see the Troop run, cycle and/or jog 460 km, which is the distance from their unit in Rugby to the HQ of the Royal Signals in Blandford, collectively as a unit. The challenge will be running for throughout August and their aim is to raise £460!
Cadet RSM Kerber is organising this fundraising Waddle and will be posting updates of their progress on Twitter @RSM_WWMACF.
The Royal Corps of Signals Charity is one which the Troop regularly supports. The most recent fundraising saw them take part in the #100for100 celebrating the Regiments 100th anniversary. They aimed to run/cycle/walk 100km collectively, but ended up covering over 500km with some cadets achieving 100km by themselves.
If you would like to sponsor the Troop they have setup a sponsorship page on Go Fund Me.