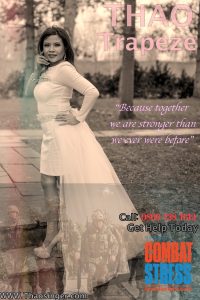 A reservist Army officer, who is also an accomplished singer-songwriter, released her first single at the end of February.
Lieutenant Colonel Thao Nguyen, of Birmingham-based 202 Field Hospital, has recorded a song, Trapeze, about mental resilience.
The single was released across social media, including iTunes and Spotify, with proceeds going to Combat Stress, the UK's leading charity that helps military veterans deal with mental health issues.
Thao says:
"A few years ago I went through a dark time in my life and turned to music, particularly singing, to help with my mental well-being.
"With the support of my vocal coach, Kirsty Morris, and my husband, Chris, family and friends, I have been able to share my love and joy of singing through live performances.
"Trapeze is about when you are 'lost in the darkness' and you 'are never alone because I know that you care'."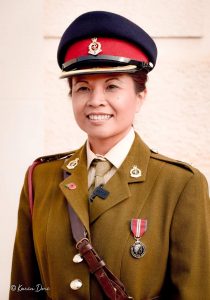 Thao lives in Milton Keynes where she works as a GP. She joined the Army Reserves in 1997 as an Officer Cadet while she was in medical school.
She wanted to use her medical skills to help injured troops and has served as an Army medical officer on exercises in France, Germany, Gibraltar, New Zealand and the United States of America.
Thao added,
"As a serving army officer, I dedicate this song to all our past and present servicemen and women because 'together we are stronger than we ever were before'.
"The song is also dedicated to anyone who has gone through, or is currently experiencing, their own dark time. It is never too late to talk and it is always okay to talk."
Thao is raising money for Combat Stress via an online fundraising page. Just search for 'Thao's TRAPEZE Charity Song' on www.justgiving.com