The Government's Cadet Expansion Programme (CEP) has successfully delivered the ambitious target of 500 parading schools across the UK, six months earlier than the proposed timeline.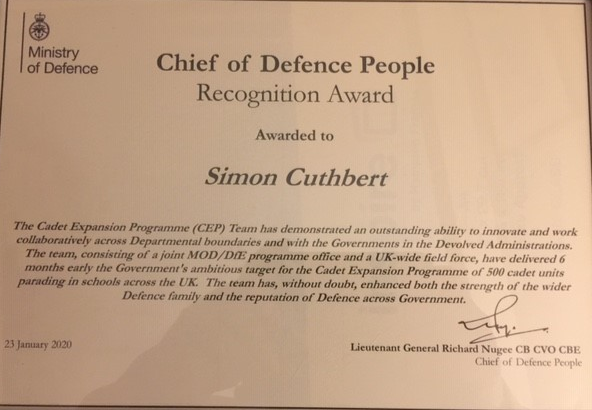 Originally launched in June 2012 by the Prime Minister and Deputy Prime Minister, the programme aimed to deliver 100 new cadet units in English state-funded schools by September 2015.
Following its initial success the Government committed to grow the total number of cadet units in schools across the UK to 500 by March 2020, with £50m allocated from Libor fines to fund this growth.
To honour this achievement, the Chief of Defence People, Lieutenant General Richard Nugee CB CVO CBE, has awarded each employee within the CEP Team a Recognition Award on behalf of the Ministry of Defence.
The regional Reserve Forces & Cadets Associations across the country employ School Cadet Expansion Officers (SCEO) whose role is to advise schools on the type of unit that may be most suitable for their circumstances, and to then assist them throughout the process.
Through his hard work and commitment, Mr Simon Cuthbert, SCEO for West Midland RFCA was one member of the CEP team to receive an award.  Simon has now assisted with seeing over 42 schools approved for cadet detachments in the West Midlands region under the programme.  This includes 27 standalone Combined Cadet Forces, 7 Combined Cadet Force Partnerships and 8 community units (Sea Cadet Corps and Army Cadet Force).  There are now over 1300 cadets in our area parading since the programme started.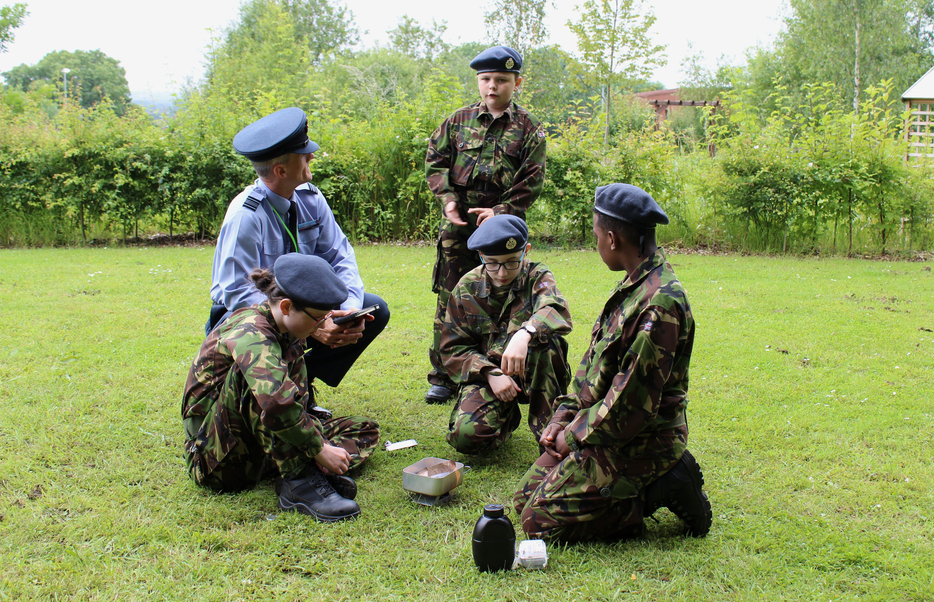 The CEP focuses on providing pupils from state schools the opportunity to experience the life-enriching activities of military cadets and equip them with unique experiences to help them in everyday life.  Pupils can enhance and gain a number of skills and qualities including self-discipline, strong leadership, self-esteem, confidence, and teamwork.
Schools with cadet units have not only seen the benefits for their students, but also the positives for their school and the local community.  Some of these benefits have included an improvement in behaviour and attendance, improved relationships between students and teachers, the inspiration and motivation to achieve new skills and also the practical support cadets have taken part in at community activities and events.
Congratulations to Simon and the rest of the CEP team!
You can stay up to date with some of the latest news from our CEP schools and Combined Cadet Forces on our news page here.