Earlier this year 43 Officer Cadets from the Birmingham and East Midlands University Officer Training Corps embarked on Exercise Dragon Slim in Tignes, in the French Alps.
During their week-long stay in Tignes they took part in a mixture of alpine skiing and ski touring, and had the opportunity to complete their Ski Foundation Courses Level 1 and 2 according to their skills and development.
Ski Foundation Level One aimed to give the Officer Cadets an insight into the skills and techniques required to successfully complete blue and green runs. Whereas Ski Foundation Level Two allowed the Officer Cadets to build on their skills – undertaking more difficult black runs and off-piste skiing as well as learning about avalanche risks and drills.
Officer Cadet Kingsland, Second Lieutenant Adams, Officer Cadet Appleton and Officer Cadet Smith shared their experiences in their exercise diary below…
*****
Ski Foundation Level One: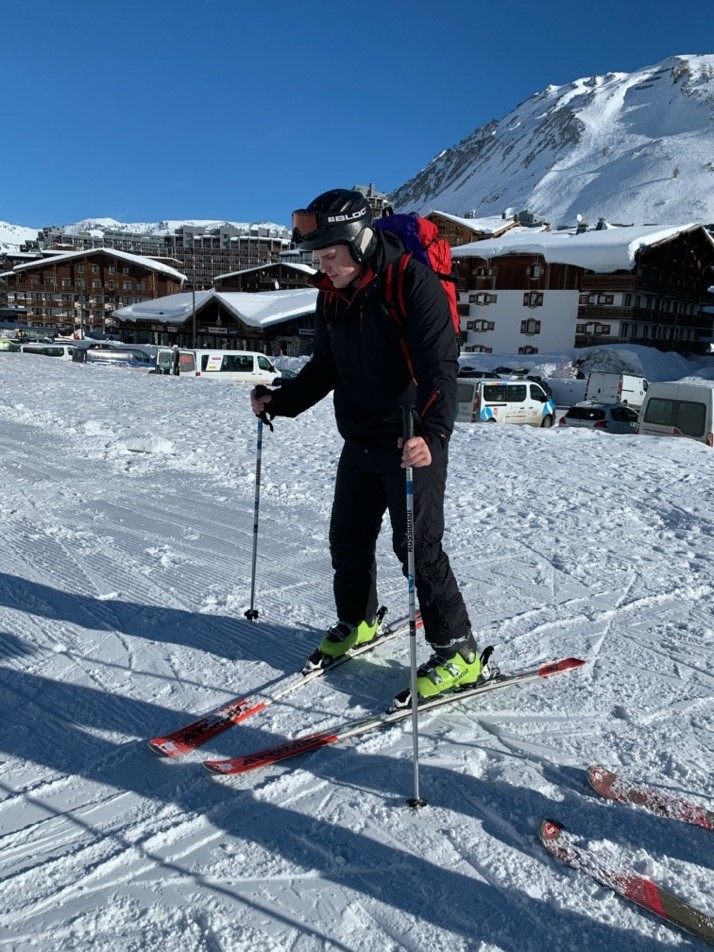 Day One:
Before the week even commenced it's fair to say I was nervous. I had heard beforehand numerous horror stories of people breaking their legs or tearing ligaments, so my aim initially was just to come back in one piece!
We embarked onto the nursery slopes for the first day which thankfully was far from a black run.  Straight away we got the skis on and were told to do pizza slices and chips which only really furthered my confusion and nerves.  However, within a couple of hours, involving a lot of falling over, the group and myself could come to a basic stop and attempt some turning.  After lunch we moved locations to a slighter steeper nursery slope and continued with what we had learnt that morning.  Again, the outcome was a bit more falling over and pain but a lot of progression with the basic techniques and the group would finish the day being comfortable at this gradient with the plough technique.
Day Two:
The next day things were ramped up (quite literally), even more.  We started with a green run, the lowest of gradients but regardless a run.  Although we got down these slowly the whole group felt relatively comfortable with these.  We also encountered many different types of ski lifts on this day, including the button and chair lift.  Some of the group grasped not falling over at the end of the chair lift more than overs.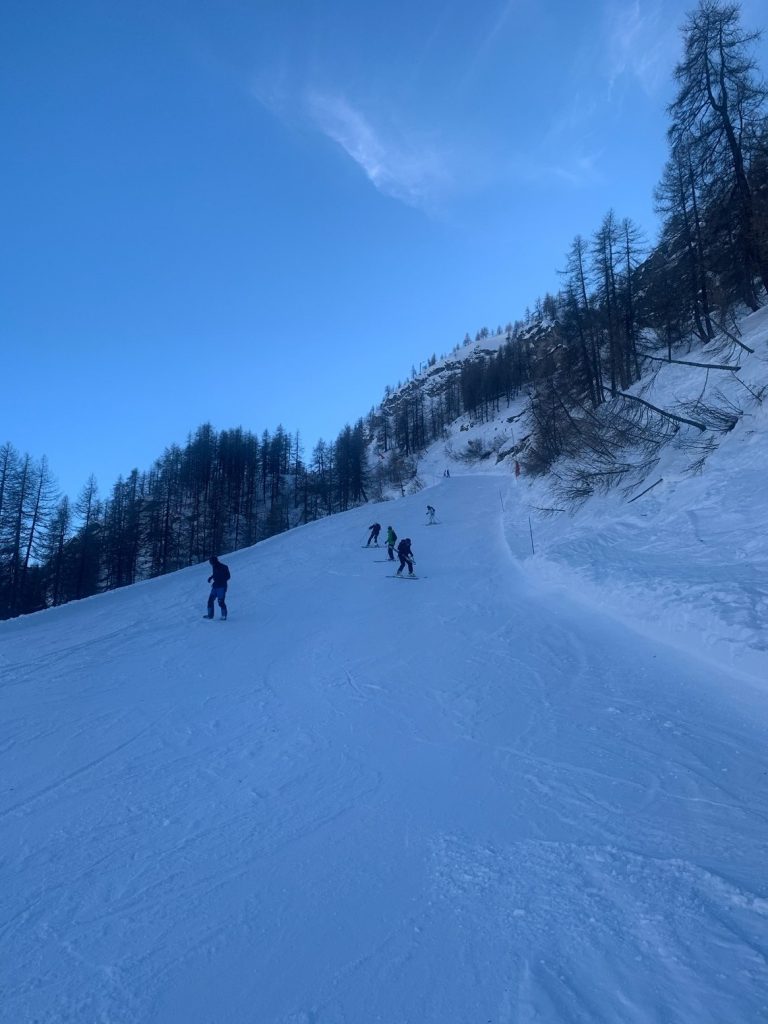 We would come to do a blue run towards the back end of the day and despite some falls we were really starting to master the plough technique that had been taught to us on the first day.  We ended the day with what would be one of our favorite green runs for the entire week, a course involving bells you could hit, bumps you could go over and xylophones which could be played.  At the end of day two the feeling in the group was accomplished and content.
Day Three:
Having learnt and practiced the basic techniques on are third day we could practice our ski technique down a range of blue and green routes.  Having started the morning with some comfortable green to allow us to go over some drills and techniques we headed up the mountain to Fresse where we could reach the Vald'sere ski routes.  We spent the afternoon undertaking greens and blues allowing us to get used to traveling at speed and ensuring we practice the ski plough technique traversing down the slope.  I really enjoyed this day as it gave us the freedom to develop our technique as well as take in the breath-taking views.
Day Four:
Having started the morning with some more techniques such as skiing on one leg to ensure our weight stayed on the downhill ski to undertaking separation, where you ensure the body and shoulders are facing down the slope even if the skis are not.  We were then given the chance to practice our leadership skills as one of us was given the maps and had to navigate to set locations.  I found this day of skiing my hardest and it involved some difficult and steep blue runs, including a few reds and plenty of falls!  Although this really enabled the group to push ourselves out of our comfort zone and achieve one of the main aims of adventure training by being in a challenging environment.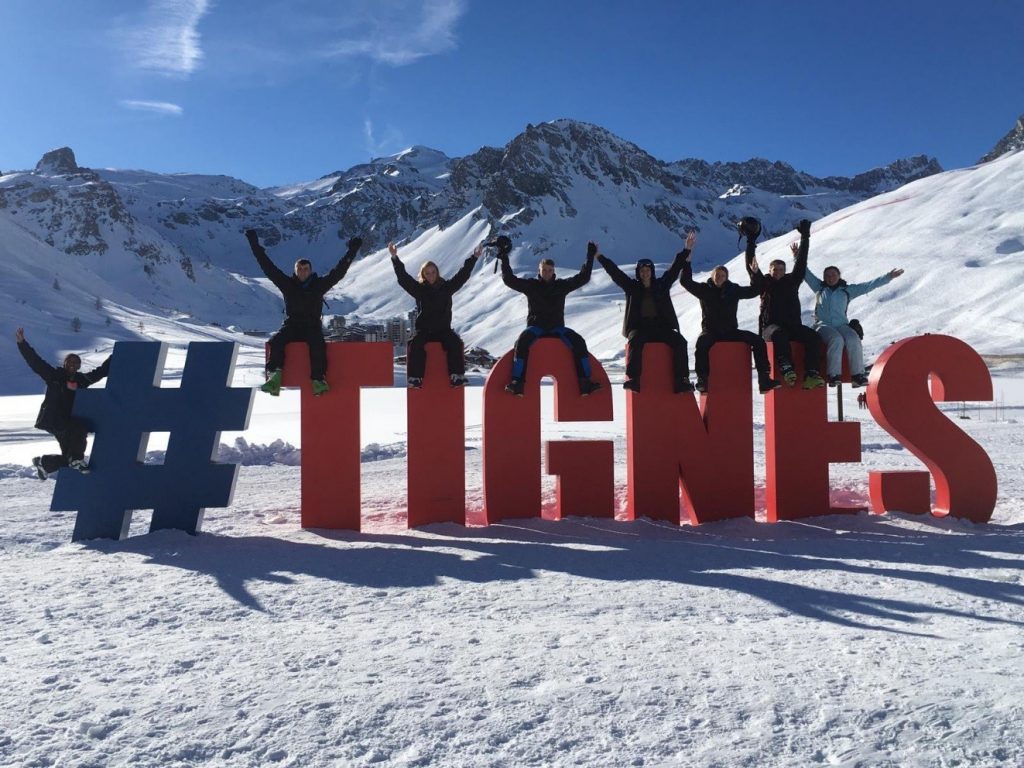 Day Five:
By day 5 we were comfortably attempting red and black slopes with difficult terrain. These slopes had many patches of ice and modules which tested the skills we had developed throughout the week. We also skied down the men's downhill race course to test ourselves on icier and smother terrain. Routes we took included:
Val claret-> Toviere-> Marmotees -> Vald'sere-> marmot -> la Grande motte-> Val claret
Day Six:
The final day of the course gave us the chance to have another advanced ski day. Each member of the group took turns in navigating the group along a route of their choice. Routes included some red and black slopes when the weather conditions improved and earlier in the day when visibility was poor. We practiced our carrying techniques and control of speed on easier green and blue slopes. We also skied some final runs done the Grand motte which was one of the highlight mountains of the course as it provided great views of the resort as well as challenging slopes which were difficult to ski. Routes we took included:
Val claret-> Toviere-> marmottes-> Rocher de Bellevarde -> marmottes ->Borsat -> La grande Motte
Ski Foundation Level Two: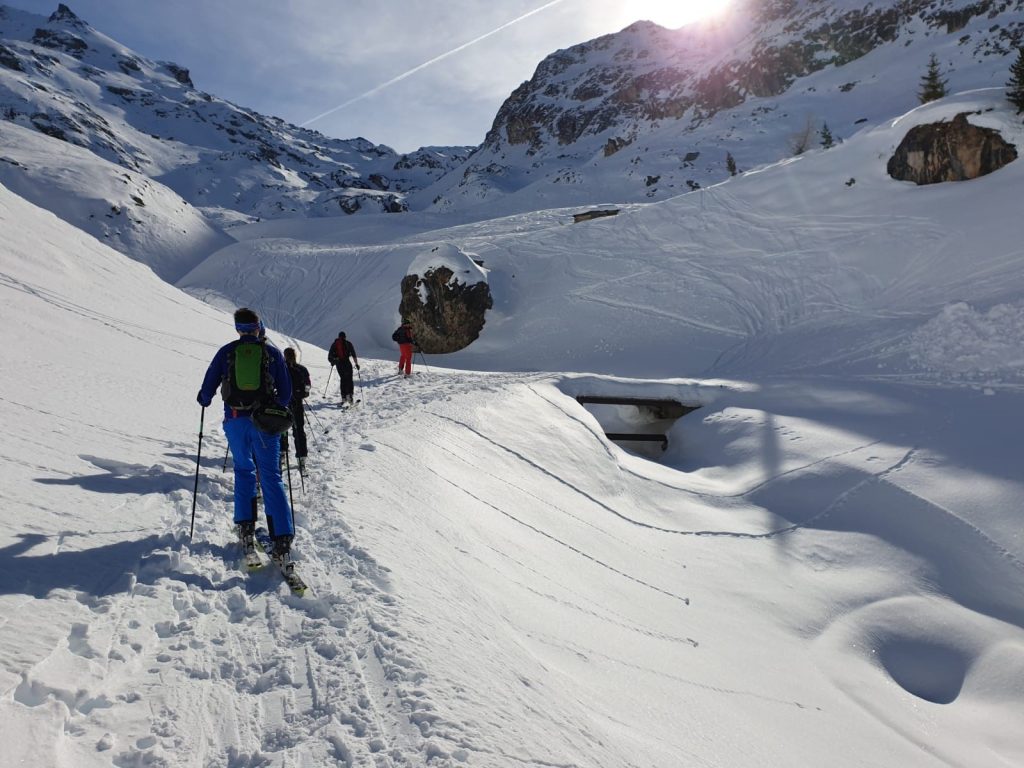 Day Three:
On our 3rd day of skiing we started looking at going fast and trying to do aggressive carving turns. We travelled 40km skiing and 25km on lifts.  We went to the furthest points either side of the resort, which was a huge challenge for a single day and great fun.
Day Four:
The 4th day was an introduction to touring. We skied to Val d'Isere, where we attached skins to our skis to aid walking and set up our touring kit. We then walked South on tracks and then East off-piste for about two and a half hours. Then we had lunch by a mountain hut and skiied back down along a valley. I now have a new appreciation for chair lifts!
Day Five:
On our last day with our instructor Scott, we did some of the few remaining elements of the Ski Foundation Level 2 course.  This involved learning about defensive skiing off piste and digging a snow profile.  The snow profile (see picture) is used to evaluate the snow to understand the conditions that might be experienced while touring and estimate the likelihood and severity of an avalanche.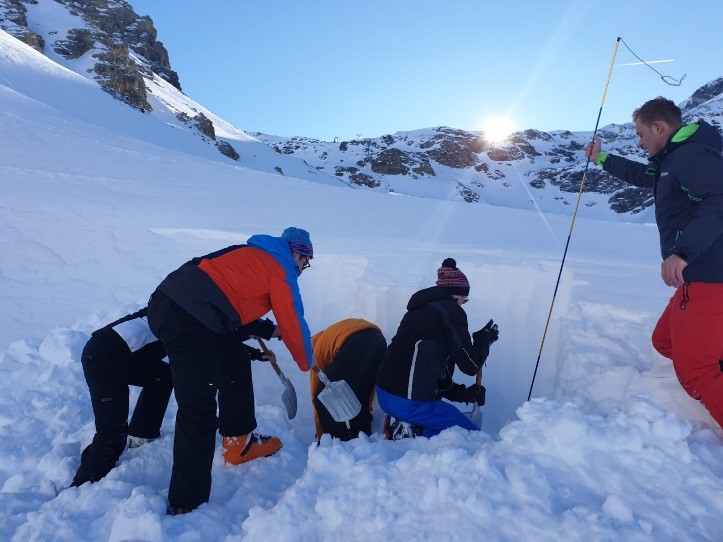 Birmingham University Officer Training Corps is one of the University's three military service units. Open to undergraduates, it is focused upon providing leadership development training, using the four pillars of military training, adventurous training, sport, and social activities.  The University Officer Training Corps is based upon the Army's military training.  Birmingham University Royal Naval Unit similarly provides training based on the Royal Navy's skills, and the University of Birmingham Air Squadron for those of the Royal Air Force.
Despite their name, the units are open to students at the University of Birmingham, Birmingham City University, University College Birmingham, Newman University Birmingham, Aston University, Harper Adams University, Staffordshire University, Keele University, Coventry University, Warwick University, Worcester University and Wolverhampton University.
You can find out more about each service here, with additional joining information for each service here.