Members of the Birmingham and wider Midlands community came together to celebrate West Midlands Women's Voice's first International Women's Day event in over two years.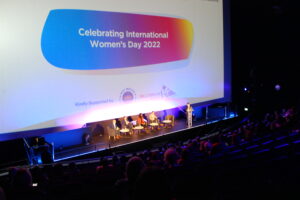 Held at Millennium Point in Birmingham, the event was run in partnership with the West Midlands Combined Authority, with support from our Association and Millennium Point.
With a focus on breaking the bias within sports, arts and culture, two keynote speakers who have achieved incredible accolades within the world of sports – and are both members of the Armed Forces – presented their inspiring stories from childhood, through to their university lives and military careers, to being world champions in their respective sports.
The second half of the event welcomed a panel discussion with representatives from Birmingham's entertainment, hospitality, sports and technology institutions.  Chaired by the Mayor of the West Midlands, Andy Street, the panel answered key questions about accessibility, diversity within the boardroom and the future of technology.
Meet the keynote speakers…
Major Heather Stanning OBE RA is a double Olympic medalist, and previously World and European Champion in the Women's Pair for rowing.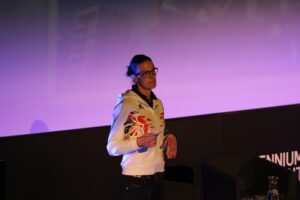 Her passion for competing in the sport professionally started during her time at university and by the time she had graduated she had become the U23 World Champion in the Women's Pair.  Following her studies, she attended the Royal Military Academy Sandhurst and commissioned into the Royal Artillery.
Since then, alongside her rowing partner Helen Glover, Heather has enjoyed successes with Great Britain's rowing squad, and the duo also secured Great Britain's first ever Olympic Gold in women's rowing during the London 2012 Olympic Games.
Proving that work and elite sport can be combined, Heather returned to work with the Army a month after the games finished.  Completing an operational tour of Afghanistan in summer 2013, she returned to rowing the same year and became World Champion with Helen in the women's pair in 2014 – breaking a 12 year record to claim a World Best Time.
In 2015 both Heather and Helen held all the major rowing championship titles.  The same year they defended their World Championship title, which was described as 'one of the best GB performances of all time' by GB Rowing Team Performance Director, Sir David Tanner.
The duo remained unbeaten in the pairing since 2011, spanning 39 races, winning 10 World Cup regattas as well as the European, World and Olympic titles, until in November 2016 when Heather retired from international rowing to concentrate on her military career.  At that time both Heather and Helen were ranked as the top female rowers in the World.
Since returning to the Army Heather has spent time working within a NATO Headquarters and is now currently a Battery Commander with 47th Regiment Royal Artillery. She is also a mentor for some of Great Britain's current rowing squad.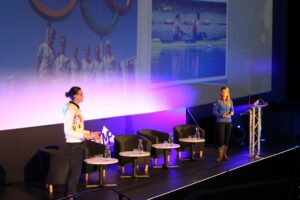 Major Jennifer Kehoe MBE is a Paralympic Gold Medalist, twice World Champion and most decorated Winter Paralympian amongst her string of skiing accolades.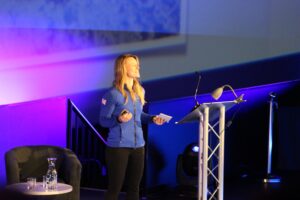 Jennifer's skiing journey started after her family moved to Switzerland and her school ran an annual ski camp in the Alps, sparking her interest in the sport.
After completing Officer training at the Royal Military Academy Sandhurst, she commissioned into the Royal Engineers.  Through the Army's sports programme she was introduced to the experience of being a guide for skiers.
In 2015 Jennifer started up a new partnership with Menna Fitzpatrick, a visually impaired para-alpine skier.  Skiing as a guide for Menna they become the first British skiers to win the overall World Cup gold medal in 2016, and a bronze medal in the giant slalom at the World Championships.
At the PyeongChang 2018 Paralympic Winter Games the duo became Britain's most successful winter Paralympians when they claimed slalom gold on the final day of action to add to their super combined and giant slalom silvers, and Super G bronze medals.
Having reached the pinnacle of her career, Jennifer retired from elite sport in 2021 to focus on her career in the British Army.
The British Army, alongside the Royal Navy and Royal Air Force, has a strong sport contingent.  Members of the Armed Forces are encouraged to pursue sports as it promotes physical and mental health benefits, teamwork, co-ordination and courage.
Alongside their military careers they compete in military sports competitions, and can potentially compete in civilian national and international competitions depending on the level of skill.  Members of the Reserve Forces can equally take part in similar opportunities.
Find out more about sports in the Royal Navy, British Army and Royal Air Force.
Published 15/03/2022