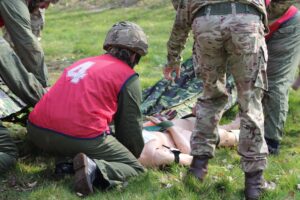 Over 20 employees from forces-friendly organisations in our region tested their leadership skills at a unique challenge day run by 37th Signal Regiment and 159 Regiment Royal Logistic Corps.
Three teams of staff from Auctus Management Group Ltd, High Speed Two Limited, RSS Infrastructure Ltd, Pertemps Group, Trident Group, IPU Group and West Midlands Ambulance Service completed a variety of practical and theoretical tasks at the Swynnerton Army Training Area.  Designed to develop teamwork and problem solving skills, the activities also aimed to enhance and challenge their existing leadership abilities.
Tasks included an obstacle course and simulated casualty extraction, an observation patrol in a woodland area, a radio communications exercise, planning and problem-solving scenarios, a computer simulated firing range and reflective leadership presentations.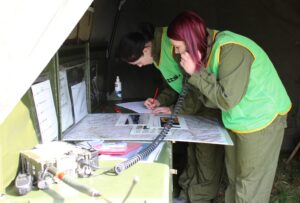 All of these activities are routinely practiced by Reservists as part of their training.  They also provided an ideal insight into the role of the Army Reserve – with some tasks in particular showcasing the specialisms undertaken by Royal Signals Reservists.
Being able to lead, guide others and be a strong team member are qualities which underpin the Reserve Forces.  As well as gaining military skills, Reservists develop their interpersonal skills and learn new ways to help others and achieve shared goals for the benefit of the whole team.  These skills are not only beneficial within a military environment, but are often qualities which employers seek in their civilian organisations.
Pankaj Kapoor, Operations Director at RSS Infrastructure Ltd, was one of the team members to take part.  After completing the challenge and reflecting on the activities, he described it as 'one of the best leadership and team building events with a lot of focus on collaborative working.'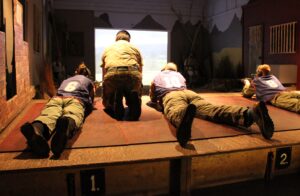 Amongst their team was John McDonough, Fleet Manager at Auctus Management Group, who also enjoyed the challenge posed by the Army Reserve. John said: "I am always keen to learn new skills, and this was a great opportunity to do so.  The Army Reserve offers a lot of transferrable skills that employees can use in the workplace."
Team scores were collated over the day during the challenge, and following a final team task the blue team were crowned as the overall winners.
Phil Sinclair, Regional Employer Engagement Director for the West Midlands, added: "It was great to welcome employees from organisations who have signed the Armed Forces Covenant, those who are starting their journey to support Defence, and also the companies who are current Defence Employer Recognition Scheme award holders, to this challenging event at Swynnerton.
"The aims of the day were truly met as participants had the opportunity to develop their team building and leadership qualities in some glorious weather for March. We look forward to working with our Midlands Reserve units again in the future, whilst we continue to develop stronger links with our forces-friendly partners."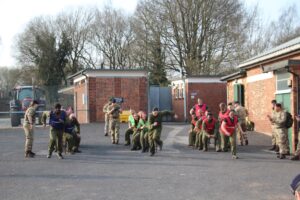 Currently approximately one sixth of the UK's Armed Forces are provided by the Reserve Forces. Serving on a part-time basis, often around their home lives and civilian careers, men and women from all walks of life serve in the Royal Naval Reserves, Royal Marines Reserves, Army Reserve and the Royal Auxiliary Air Force.
Reservists play a key role within the Armed Forces, and receive the same world-class training as their Regular counterparts, allowing them to carry out the same roles to the same exacting high standard.  To find out more about the Reserve Forces or locate your nearest unit, visit our Reserve Forces webpage.
Learn more about how employers can get involved to support the forces community.  Find out more about 37th Signal Regiment and 159 Regiment Royal Logistic Corps.
Published 30/03/2022