Cadet Executive Officer retires after 50 years of service
The Cadet Executive Officer for Warwickshire and West Midlands South Sector Army Cadet Force (Warwickshire ACF) has retired after 50 years in uniform.
Major Stephen Huyton has been the county's Cadet Executive Officer for the past six and a half years, and now hangs up his boots to enjoy his retirement following a lengthy military career.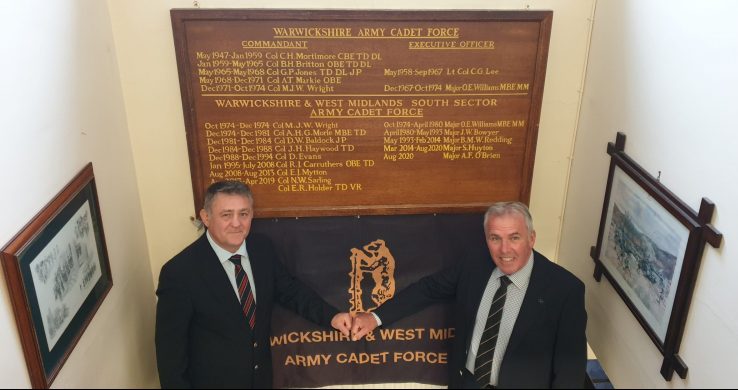 His career began when he joined the Army as a Junior Leader aged 15. He has since then been continuously in uniform, firstly as a soldier then Officer in the Regular Army, and for the last 13 years working within the Army Cadet Force.
Stephen joined the Junior Soldiers programme at Shorncliffe in May 1970 and after two years training joined the 1st Battalion The Staffordshire Regiment, Infantry in May 1972.
After many postings around the world he was privileged to become the Regimental Sergeant Major (RSM) of his battalion in 1991, at the onset of Gulf War in 1990/1991.
After serving as RSM for three years, he then took a commission in August 1993 and enjoyed a further 17 years as MTO, and Quartermaster along with many other postings finishing as Officer Commanding Donnington – DSU.
On retirement from the Regular Army he had not yet had enough of wearing green and worked with 37th Signal Regiment for 18 months, before taking over as the SO2 Cadets (which was then 143 Brigade based in Copthorne Barracks in Shrewsbury), followed in 2012 by taking on the role as Officer Commanding of 143 Brigade's Cadet Training Team.
Major Huyton said, "On reaching my 60th Birthday I was then employed by West Midand RFCA as the CEO of Warwickshire and West Midland (South Sector) ACF, a role I have thoroughly enjoyed.  I have been able to work with a great team and many dedicated volunteers and cadets.  My career has now gone full circle in 50 years."
His role of CEO has involved a high level of dedication in supporting the Commandant, Professional Staff, Adult Volunteers and cadets in the county.  As the conduit between West Midland RFCA and the Cadet Force, Major Huyton has been instrumental in ensuring that their practice is of the highest standard and that the Commandant has the funding and support needed to conduct purposeful and rewarding training.
With the Covid-19 pandemic his plans to formally address the Cadet Force Adult Volunteers and cadets at their annual camp has been sadly put on hold.
Major Huyton said, "I could not have wished for anything better than to round off what has been for me an enjoyable career, than by working in my twilight years with the best youth organisation around.
"The reason this organisation is the best is down to all the hard work and dedication of the professional staff, and the many volunteers who give up their time to promote the youth of today and instil the ACF values and standards in them so they might have a head start in life. Please keep it going."
Captain Ronnie Walker, the county's Quartermaster, added: "Steve is a soldier through and through and you always know exactly where you stand with him.  He is firm but fair and has given 6 years of excellent service in the chair as CEO.
"As an individual Steve is a committed and diligent, hardworking individual, who if cut in half would bleed green.  He has dedicated his working life to not only serving the country in his beloved Staffordshire Regiment but also in supporting the youth of Warwickshire ACF. Before taking on the post of CEO he held jobs with cadet branch at Brigade and the Officer Cadet training team.
As CEO Steve was instrumental in streamlining the accounts and unifying the unit finances, a daunting job that he took on willingly. Steve had a true sense of team, and his door was always open; he never shirked away from dealing with the more emotive parts of the job.
"The place won't be the same without Steve, our teabag consumption will surely drop and Red and Lady (his four-legged office companions) will be sorely missed too."
Major Huyton finished by adding, "Thank you all for the support you have given me over the last six and a half years.  It has been a pleasure to work with you all supporting this great organisation. I have now handed over the reins to Major Alan O'Brien who I am sure you will give your support to as you did me. Thank you."
From everyone at the county – staff, volunteers and cadets – and all at West Midland RFCA, we wish Major Huyton a joyful retirement and look forward to seeing him at our future functions and events!
New Cadet Executive Officer joins the county
Following Major Huyton's retirement, Warwickshire ACF have appointed their new county CEO.
Major Alan O'Brien officially took post on Monday 3rd August with a period of handover from his predecessor.
With a wealth of experience and positive outlook, Major O'Brien is no stranger to uniform and has had a lengthy military career.
Alan originally joined the Army in June 1982 as a junior soldier with the Light Infantry.  On completion of his training in Shrewsbury he was initially posted to the 2nd Battalion where he completed four tours of Northern Ireland with other posts including Germany, Winchester (Training Depot), Tidworth, USA and Colchester, until the rank of Sergeant.
During this time he picked up a wide range of specialist skills and also proved successful at the challenging Junior and Senior Brecon courses for Non-Commissioned Officers and the vaunted Sniper Instructor Course.
He then transferred to the Royal Logistic Corps (RLC) in 1994 as an MTI and was posted to Germany as the Regimental Training Senior Non-Commissioned Officer, and then went on to become the Senior Quartermaster Sergeant at 9 Supply Regiment.
As his career moved on Alan returned to Germany in 2000 as Warrant Officer 2 (Sergeant Staff Major) with 6 Supply Regiment RLC, where he remained until 2005. During his service with the RLC he has been on Operations in Bosnia (Regimental Quartermaster Sergeant), Iraq (Sergeant Staff Major) and also served in Cyprus and The Oman.
In 2005 Alan continued his regular service and obtained a post on the Long Service List being posted to Headquarters 42 (North West) Brigade in Preston as the Brigade Resettlement Warrant Officer with 1 Army Education Centre (AEC).  During that time he was employed to support Medical Discharges and Early Service Leavers registered with 1 AEC.
In 2007 he left the regular service and obtained a Non-Regular Permanent Staff post as the OSWO with 4 MERCIAN in Wolverhampton responsible for managing the Battalion Recruiting Teams, development and implementation of units' Retention and Welfare policies.
In September 2009 Alan then gained civilian employment with the RFEA as a Specialist Employment Consultant supporting ex-services (ESL & Reserves).  At this time he also applied to 143 Brigade for a commission, and his experience and talent led to him being offered an appointment with 159 Regt RLC as a Squadron 2nd in Command prior to moving on to a Fulltime Reserve Service contract.
His next and last appointment was in 2011 as Permanent Staff Admin Officer for 237 (Supply Squadron) RLC in West Bromwich, which after nine years in post, saw his next move to his new post with Warwickshire ACF.
Major O'Brien enjoys rugby, canoeing and skiing, with a more sedate interest in football.  In his own words he has made attempts to try to understand and gain an interest in golf, but 'finds sport difficult wearing trousers and a cap'.  He also provides support for the ex-service community in his local area by heading up a monthly Armed Forces and Veterans Breakfast Club (AFVBC) in Birmingham.
Commenting on his new role, Major O'Brien said, "I am looking forward to meeting everyone and getting into the role fully. Behind the scenes I have already been working with the professional staff to make sure that the risk assessments for the facilities are at the highest standard and the facilities themselves are ready to receive CFAVs and cadets when the time comes."
As we prepare to move from online training to blended training as the Government lockdown begins to ease, we look forward to Major O'Brien having the opportunity to meet the rest of the staff and cadets.
We extend a warm welcome to Major O'Brien for joining the team and look forward to working alongside him!
Warwickshire ACF is home to over 850 cadets and over 150 adult volunteers in 29 detachments across the counties of Warwickshire and the West Midlands.  To find out more about opportunities with the county as either a volunteer or cadet, visit their website here.
Interested in finding your local detachment? Visit our homepage and scroll to the bottom of the page to access our 'find a unit' tool.