Undoubtedly it has been a tough time for parents and their children as they struggle with ideas to keep themselves active, engaged and occupied over the weeks of lockdown across the UK.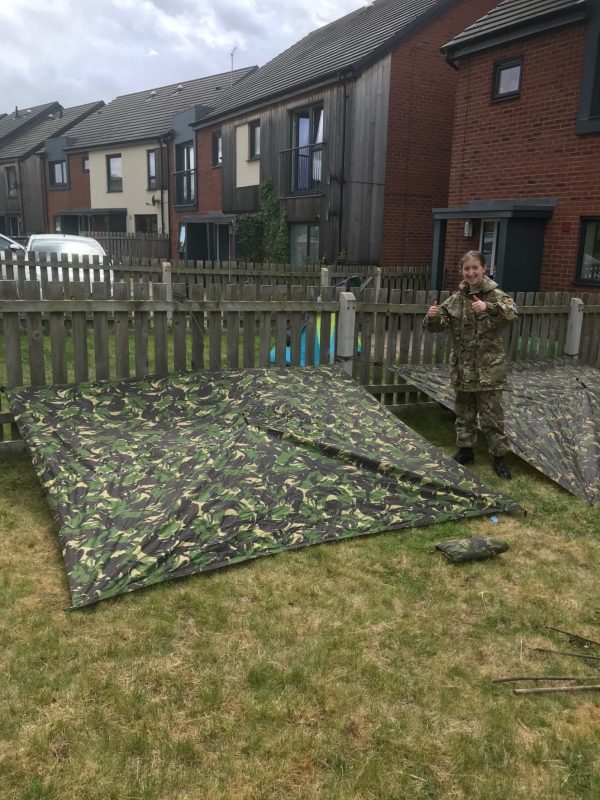 However, for one weekend that all changed with the first virtual exercise being held by Hereford and Worcester Army Cadet Force (HW ACF) across all of its 20 detachments.
To keep to social distancing rules cadets set up their own mini exercise area in their back gardens, which included setting up and sleeping out in an overnight shelter and cooking for themselves with ration packs.
During the 24-hour event the cadets were engaged with online quizzes, took part in set challenges and had a competition to decide who built the best overnight shelter.  But it wasn't just about building the shelter, the cadets were encouraged to spend the nights under the stars.
The Cadet Battalion Training Officer said, "It was a challenging event ensuring all the safety procedures were in place and effective for the virtual exercise.  But the parents were great, as were the cadets who carried the weekend off perfectly, I feel redundant now."
During the weekend the cadets were kept fully up to date with the event and activities via Facebook (https://www.facebook.com/hwacf/). This included live photographs of the event as it happened and videos from various HQ staff.
The Commandant of HW ACF commented: "These are uncertain times and the future remains a challenge, however, I have been inspired by our cadets in the way they have taken on the responsibility of the virtual exercise, demonstrating our future generation have so much to offer.  This therefore not only makes me proud of our young generation but also gives me great hope for their and our future."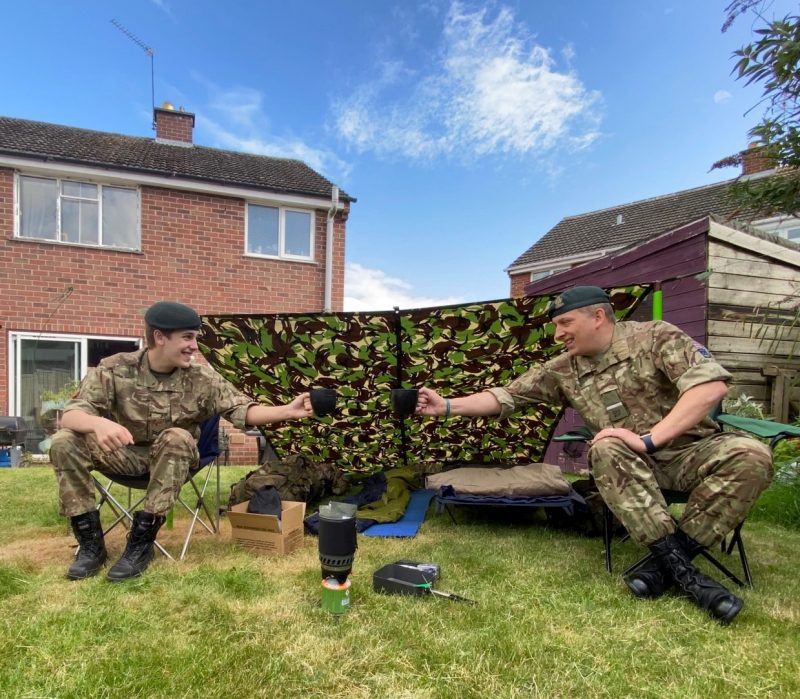 An interesting variety of shelters were built which included the standard type often used by cadets on field exercises, but also some very innovative urban "basha" designs.
Father and son team, the Maher's (pictured left), enjoyed the activity together, although it appears from their photo that they may have taken the social distancing instructions for the exercise to the word, even though they are father and son.  Maher junior is a Cadet Corporal and his dad is embarking on Officer Training and will be commissioned in to the ACF on successful completion of his Initial Officer Training course.
From the onset of the lock down, the Commandant has been keen to promote a positive message to the cadets and encourage engagement as best as possible during the isolation.
He commented: "Our cadets have been so positive throughout the time of lockdown and have thrown themselves into not just our own virtual cadet activities, but also turning out in uniform across the county on the Thursday evenings to clap for the key workers, and again appearing in their uniform for the 2 minutes silence on VE Day.
"If there is something good that has come out of the coronavirus pandemic, for me, it has to be the way our cadets have behaved under exceptionally challenging times and supported their local communities."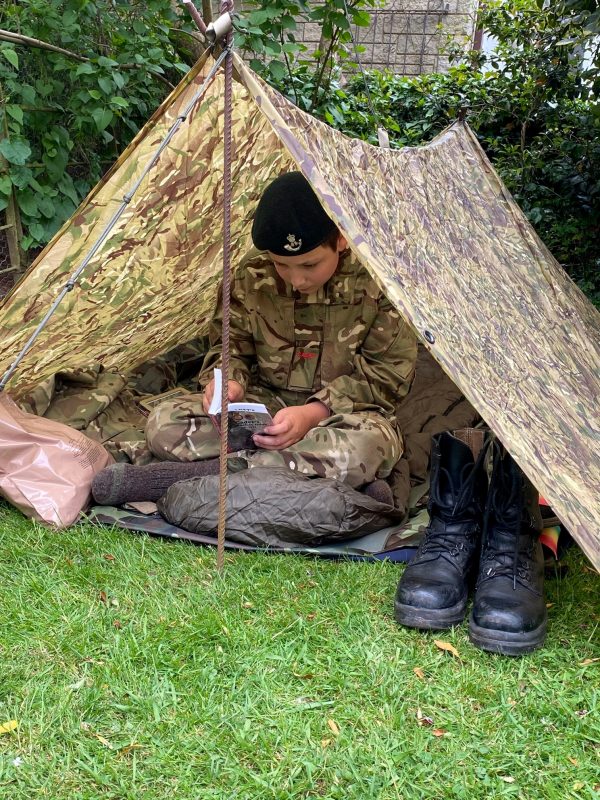 The event was as much a success for the cadets as the parents who welcomed the chance of getting their children outside and involved in an active activity.  One relieved parent who wished to remain anonymous described it as a "refreshing change to the mundane routine of the lock down and great that the computer games were nowhere to be seen for 24-hours."
Positive feedback was also received from other parents during and after the weekend.
Brian and Sandy from Malvern said: "Thoroughly enjoyable event, which engaged our whole family."
From Malvern, Samantha said: "It was great to be able to see what others were doing from their photos and videos and make a connection."
While Sabrina from Ross added: "Thanks for organising an event that got my son motivated and trying new skills out – even in the virtual manner".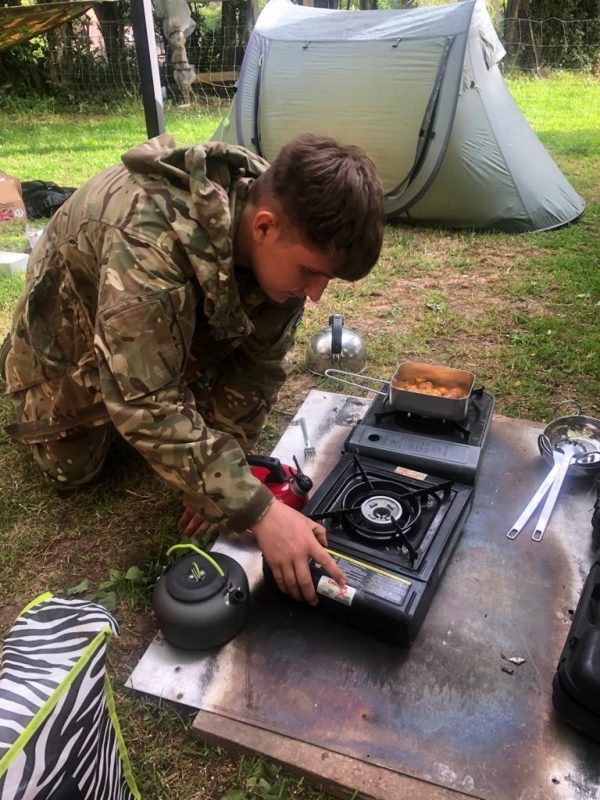 Matthew from Churchill gave a thumbs up and commented "thanks to everyone involved with running the event over the weekend. We feel it gave Max a positive exercise to be involved in during lockdown that was a welcome "break" from the current situation and kept his enthusiasm for the Army Cadet's fully charged."
Cadet Sophie from Malvern summed up the cadet's experience with: "Great fun, can't wait to do it again!"
The cadet force is open to everyone aged 12 and above by September 1st, and up to the age of 18.  Detachments are spread across Hereford and Worcester County and some 500 cadets participate in activities including Adventurous Training, DofE, Sports, Fieldcraft and much more.
 Cadet Force Adult Volunteers hail from all backgrounds and are trained and accredited to provide cadet activities with the assistance of a permanent staff team.  The cadet force is always appreciative of new volunteers who can contribute to the development of young people.
Find out more about joining Hereford and Worcester Army Cadet Force as a cadet or volunteer.
Stay up to date with cadet force news in our region.