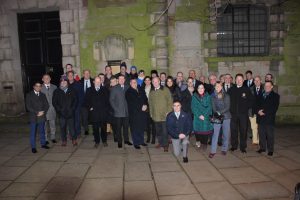 On 29th January West Midland RFCA hosted their annual Gold Alumni Association (GAA) event. This year the event was held in Birmingham's historic Jewellery Quarter with a private tour provided by local historian Carl Chinn.
Our GAA is now made up of 17 companies who have met all of the criteria and been awarded one of Gold Employer Recognition Scheme Awards. Of the 17 award holders 14 of them were able to attend this unique event, hosted by such a knowledgeable and enthusiastic tour guide.
The stories and historic details that Carl recited kept the group enticed and hanging on for more. Although a large amount of detail was spoken about in the hour long tour we only really touched on the edge of the history in this fascinating area of England's second city.
After the albeit cold walk around the Jewellery Quarter it was time to head to the restaurant for some dinner before everyone made their way home.
The aim of this event is to show our appreciation to those companies who have supported the Armed Forces family and achieved the highest accolade on the Employer Recognition Scheme. This year's event seemed to top the polls as positive feedback flooded in the next day, along with requests for more of the same next year.
If you have not yet signed the Armed Forces Covenant and started working your way up the Employer Recognition Scheme Awards ladder and would like to then please contact our Employer Engagement Team on wm-reed@rfca.mod.uk or 0121 274 2227.
Don't forget for all Silver Award holders that want to achieve Gold the deadline for this year's application is 25th March 2020.