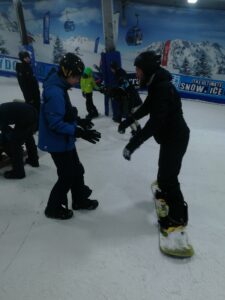 Snow Camp is a national youth charity that uses snowsports to drive social mobility.  It operates a three tier programme.  The entry stage is First Tracks, a two day course at a local dry slope or indoor snow facility.  The intermediate stage is Graduate, this takes place over six Saturdays or Sundays in the autumn term.  The final stage is Excel, this runs at weekends in the spring term and culminates with a week in the mountains.
In 2022 a group of cadets from Tile Cross Academy, the Cadet Expansion Programme (CEP) component of Solihull School Combined Cadet Force (CCF), were funded by the Ulysses Trust to undertake First Tracks.  Two of these cadets then continued through Graduate and on to Excel.  Both cadets are either looked after or previously looked after and receiving free school meals and the pupil premium. Their parental contribution was fully funded by generous grants from the Ulysses Trust and the West Midlands Cadet Welfare Fund.
Cadet Lance Corporal CG chose the snowboarding route whilst Cadet SN followed the skiing route. Their week in the mountains was spent in Andora and for CG it was his first time abroad.
Both cadets achieved their First Aid at Work qualifications, completed Safeguarding Children and Adults awareness training, Mental Health in the Workplace training and the British Association of Snowsport Instructors 'Foundation Course'.
In Andorra Cadet SN was also awarded a certificate for being the most improved skier.
After they returned from Andorra all the candidates had to coach novices on the snow at the Tamworth Snowdome prior to a presentation and awards ceremony.
The cadets now become part of Snow Camp's Youth Forum and will be invited to volunteer supporting the next cohort of participants through their Snow Camp journey.
As a result of the personal development opportunities they have seized through the cadet movement both young people have gained fully funded places at boarding schools staring in September via the charity Royal National Children's Springboard Foundation.  SN is off to Wellington College and CG is off to Old Swinford Hospital School.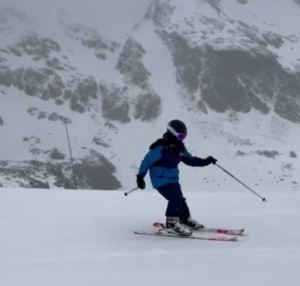 Cadet SN commented on the experience; "I have been given an opportunity to complete a skiing course over a year. It was such an incredible experience, and I feel like I learned so much over the past 12 months. I'm so grateful to have had the opportunity to take this course and to have had such amazing instructors to guide me along the way. Never could I have imagined that I would have the opportunity to learn and ski in the mountains, but thanks to this amazing school and Snow Camp, I was able to do just that. It was truly a life-changing experience, and I will never forget it. I got to meet so many amazing people and the memories we made, I will cherish forever. I'm so glad I had the opportunity to learn and practice my skiing skills at the Snow Dome. It really paid off when I hit the mountains in Andorra. I felt confident and in control, and I was able to tackle some challenging runs with ease. It was an amazing feeling! I'm so grateful to everyone who helped make my skiing trip to Andorra possible. It was absolutely fantastic! The snow was pristine, the slopes were exhilarating, and the scenery was breathtaking. I couldn't have asked for a better experience.  By the end of the course we both had qualifications in first aid and mental health support as well as gaining our Foundation award from the British Association of Snow Sport Instructors.  I was also awarded a certificate for Most Improved Skier.  We are both really grateful to the Ulysses Trust and the West Midlands Cadet Welfare Fund for their financial support in making this possible."
Find out more about CCF and CEP schools.
To find out more about Snow Camp visit – www.snow-camp.org.uk
Published 11/05/2023