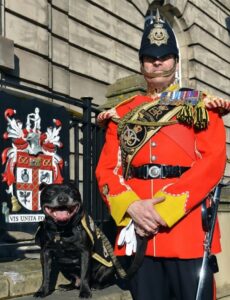 Born on the 8th March 2009 in Cannock, Watchman V, the Staffordshire Bull Terrier mascot of the Staffordshire Regimental Association, lived with his owners and handler, Mandy and Greg Hedges, in Staffordshire.  During his life Watchman took part in over 900 events including parades, national events, Remembrance services, charity events, school visits, funerals and weddings; and was well loved by his community and those who met him.
He also met many members of the Royal Family at official parades and functions, brought comfort and support to grieving families, and has helped to raise thousands of pounds for charitable causes.
As well as having two streets named after him – Watchman Close in Lichfield and Watchman Walk in Tamworth – he was also given the freedom of Tamworth, Newcastle-under-Lyme, Uttoxeter, Hednesford and Brindley Heath.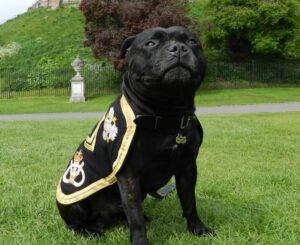 Watchman V is the fifth mascot of the Staffordshire Regimental Association since World War Two.  The Regiments of Staffordshire have traditionally had Staffordshire Bull Terriers as mascots since 1882.  The Staffordshire Regiment officially disbanded in 2007, and merged to become the Mercian Regiment.
He was promoted on several occasions – first to Lance Corporal by Mrs Susan Hawley, the wife of the then Lord-Lieutenant of Staffordshire, then to Corporal, Sergeant and finally to Colour Sergeant, by Mrs Jane Dudson, the wife of the current Lord-Lieutenant of Staffordshire, Mr Ian Dudson.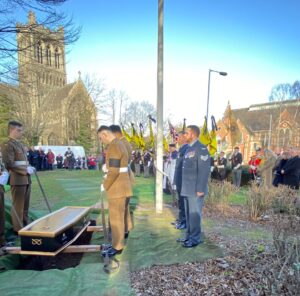 Following an extensive career, Watchman V formally semi-retired from his duties in March 2020, but still continued to attend events alongside his handler Greg, and his successor Corporal Watchman VI, who officially took over his duties in March 2019.
Colour Sergeant Watchman V sadly passed away in January 2022 and his funeral was held on 31st January, where his owners, family, friends, local community, members of the Armed Forces and representatives from military associations laid him to rest at a ceremony at Burton-upon-Trent Town Hall.  He was buried with full military honours in the Town Hall gardens along with his predecessors, Watchman I, II, III and IV.
Published 01/03/2022