Over 35 young professionals joined a special webinar to learn more about skills to overcome challenges in their careers. West Midland RFCA ran the event in partnership with the Future Finest group at Staffordshire Chamber of Commerce. Guests were invited to listen to three military personnel who shared their experiences and insights into managing challenges and dealing with the unknown.
Siamha Butt, Head of Engagement at West Midland RFCA Commented, "Conquering the Abyss was an inspiring event that allowed us to hear from talented military speakers and understand how to remain focussed and positive during adversity. We were able to take examples from their individual stories and to understand how as individuals we can maximise our potential and strengthen our own inner resilience in trying times."
Aiming to inspire and offer alternative perspectives to common issues, they each addressed how their experiences had shaped both their careers and personal development.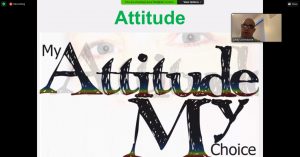 Sharing the 'Hard Facts' model, Warrant Officer First Class, Andy Johnstone, Permanent Staff Admin Officer at 237 Supply Squadron part of 159 Regiment RLC, introduced a model that the British Army uses to help support its soldiers through a series of mental and physical assessments.  He outlined how they use this to help soldiers to reflect, learn and overcome issues – and how this can be used in your own daily life in the civilian world.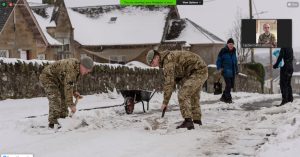 Focusing on leadership, Captain David Gibson, Adjutant of 159 Regiment RLC, highlighted the opportunities and skills you can gain with the Armed Forces.  These skills can apply easily to the civilian workplace, such as teamwork, problem solving, leadership and communication – and conversely you can even use your civilian skills to bring civilian trades and processes to the Reserve Forces.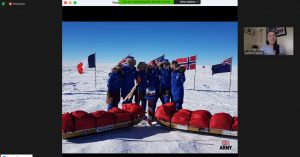 Having previously transferred from Regular Army to the Army Reserve, Major Sandy Hennis spoke about how an encounter leading expeditions for school groups fired up her resolve to do something to help young women lacking in confidence.
Applying for, and successfully gaining a place on the Ice Maiden team, she became one of a team of six women from the British Army who would break records by becoming the first (and largest!) team of women to ski coast to coast across the Antarctic using muscle power alone.
With the thought of 'what's the worst that could happen', she threw herself into the challenge.  Overcoming the cold, the storms, the delays in setting off, the physical and mental challenges and the sheer scale of the expedition. Sandy shared wise words and takeaways from her epic adventure: preparation, flexible leadership and knowing your team.
So what key points did we all take away from our speakers?
Honesty – be honest with yourself, your family, your colleagues or your team.
It is ok to admit when you are struggling with something. Asking for help is not a weakness.
Do it today – not tomorrow!
Always look for a way to develop yourself – embrace new opportunities.
Push yourself out of your comfort zone.
Share your knowledge with others – in turn, they can share this with others.
Look at different coping strategies – different things work for different people.
Be a good team player
We extend our thanks to Future Finest and Staffordshire Chamber of Commerce for running the event, and to our three speakers for sharing their inspiring stories.   If you are interested in joining us for future events view our events page.