Coventry College has formed a major partnership with the Armed Forces for the first time.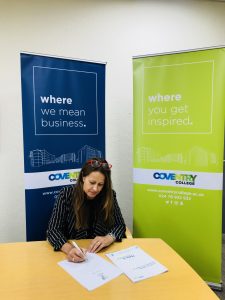 The city's further education provider – which educates around 8,000 young and mature students – has signed the Armed Forces Covenant, which is a formal pledge of support to former and current personnel who have served in Great Britain's Navy, Army, and RAF.
The Covenant will see Coventry College working with Career Transition Partnership, a free service supporting the employment prospects of all veterans, and Forces Families Jobs, providing free support to businesses looking to recruit military spouses.
It means that Coventry College will also support the training and deployment of its staff who wish to become members of the Reserve forces – which sees individuals from all walks of life dedicating their spare time to serving their country as a member of the Armed Forces.
Serving personnel from the Navy, Army, and RAF will also be regularly attending the College to talk to students about a career in the Armed Forces, whilst Cadet units across Coventry and Warwickshire will also benefit from College visits.
Carol Thomas, Principal and CEO at Coventry College, said, "The Armed Forces provide an invaluable service to our country and wider society, and as a College we are incredibly proud to show our support by signing the Armed Forces Covenant.
"This is the start of an exciting partnership that is of mutual benefit. We can help Armed Forces personnel to up-skill to make the transition back into civilian life a little smoother, while also highlighting to our students and staff the benefits of supporting the Armed Forces to help bring through the next generation of serving personnel.
"The College has built up a strong relationship with the Armed Forces over the years thanks to a number of our public services students going onto forge successful careers there, and signing the Armed Forces Covenant feels like a natural progression."
The College has also pledged its support to participate in Armed Forces Day, which takes place on Saturday, June 26, 2021.
Bobby Birdi, Regional Employer Engagement Director at West Midland RFCA said, "We are delighted that Coventry College have made pledges of support to the Armed Forces Community, particularly in seeking to employ service leavers via the Career Transition Partnership, and supporting their staff who choose to be members of the Reserve Forces.
"Coventry College have already shown great support in advocating for wider awareness of the jobs and training available in the Royal Navy, Army and RAF, and we look forward to working with them to build on this relationship between the Armed Forces and the communities they serve."
Lieutenant Colonel Gaddum, 11th Signal and West Midlands Brigade said, "The signing of the Armed Forces Covenant with Coventry College is a fantastic step in confirming their commitment to the Armed Forces. It is significant to the army here in the West Midlands with the recent formation of the Military Academic Partnership, which is a West Midlands Army initiative aimed at fostering and strengthening links between the Army and Further and Higher Education institutions. The purpose of which is to create collaborative opportunities with colleges whereby students can receive a brief insight into service life through safely delivered tasks by service personnel through the physical and/or virtual space."
"The Armed Forces Covenant is an exciting step forward for any organisation who makes that commitment by signing it. The Army in the West Midlands are excited by all the opportunities this creates to enhance our collaboration and support to all organisations in the Academic world."