An innovative new heating system is bringing a positive environmental impact to the Defence volunteer estate in the West Midlands region.
Our Association's Estates team, whose role includes overseeing the upkeep of some 30 tri-service Reserve Centres and providing support and maintenance to 250 Cadet units on behalf of the Ministry of Defence, highlighted issues relating to the efficiencies and maintenance of the heating systems in a number of Army Reserve Centre drill halls.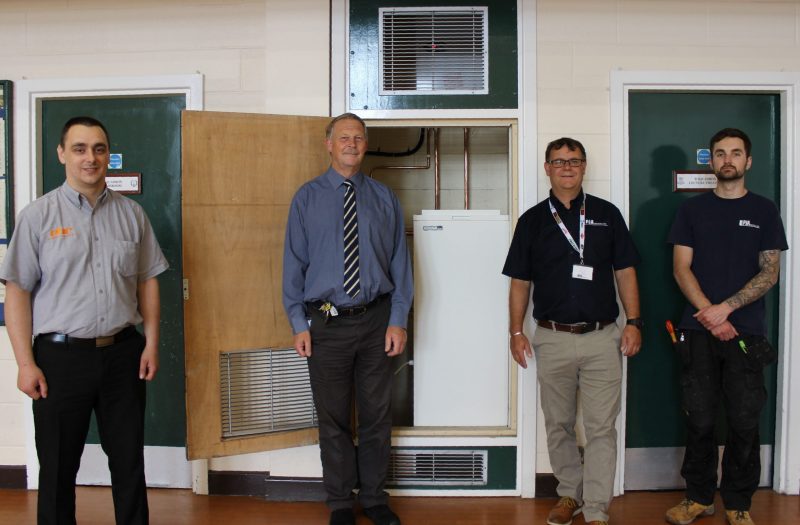 The halls were heated by night storage heaters, which required charging 365 days a year in order to store heat within a brick core.  The stored heat then provides warmth the following day.
The downside of these heaters is that they consume more power than necessary.
On colder days, the heat storage can run out faster if the heaters are used all day, which in turn has negative effects on the temperatures of the training facilities for Reservists during the colder months.
Additionally, night storage heater technology was quickly becoming obsolete.  Once a popular type of heating in domestic and commercial properties, gas central heating systems soon took over the market and electric WarmAir manufacturers ceased production.  No direct replacements or parts could be sourced for the models, which affected the maintenance and servicing of the systems.
Our Estates team tasked one of its approved contractors, PJA Electrics, with finding a replacement for the old storage heaters.  After sourcing an innovative new type of WarmAir technology via The Electric Heating Company (EHC), PJA Electrics trialled the new heating system at Redditch Army Reserve Centre.
Following a successful trial, the heating replacement was rolled out at ten Army Reserve Centres across our estate, most recently being installed at B Squadron the Royal Yeomanry's centre in Dudley.  Three more heating replacement projects are in scope at other local Army Reserve Centres.
The new heating units are instantaneous and only consume power when they are on, acting as a direct heat source and removing the previous pre-charging element.  They are 100% efficient at converting electricity into heat.  EHC now provide the only solution available in the UK that directly replaces an existing electric WarmAir unit.
One single heater now reduces the use of energy by one third in comparison, which is not only a huge environmental benefit in reducing the carbon footprint of the building, but also an impressive cost-effective saving.
Using economical heating systems allows us to work in line with the wider Ministry of Defence environmental aims to demonstrate we are good stewards of the estate and our natural environment, and continuing to develop the efficient use of utilities.
Colonel Richard Maybery, Chief Executive of West Midland RFCA commented: "We're delighted that by employing this newer innovative technology, we are providing better value for money for the Reserves and Cadets on our estate and simultaneously having a positive environmental impact."
Chris Allan, Service Manager at EHC commented on their systems: "It is an exciting new generation of water to air heating technology.  The technology, supplied by The Electric Heating Company, is the only future for the direct replacement of WarmAir Heating whilst eradicating energy waste created by older night storage systems."
Find out more about the work of our Estates Department on our webpage here.