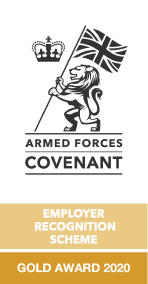 From today, we are joining a national celebration of those employers in our region who have achieved the Defence Employer Recognition Scheme Gold award, the Ministry of Defence's highest level of recognition for employers who support and advocate for the Armed Forces Community.
There will unfortunately not be an awards ceremony this year due to the Covid-19 restrictions, but we still want to celebrate all 127 winners. We will be posting acknowledgement of our region's fifteen Gold winners with details of the great work they have been involved with this year.
The Employer Recognition Scheme, now in its seventh year, recognises those companies that support the Armed Forces by proactively demonstrating a forces-friendly approach as part of their recruitment process.
Silver and Gold employers are recognised for having distinctive HR policies for Reservists, Cadet Forces Adult Volunteers, veterans and Military spouses. The distinguishing features of the Gold award holders are their efforts to advocate externally the benefits of working with Defence by promoting the Armed Forces Covenant.
The Gold award is a deserved recognition for those organisations who have gone the extra mile to support our Armed Forces. Congratulations to our region's winners:
Black Country Chamber of Commerce
Black County Housing Group
City of Wolverhampton College
Finning UK Ltd
Herefordshire Council
Highways England
Level Peaks Associates Ltd
New Model Institute for Technology & Engineering
The Royal Wolverhampton NHS Trust
Serve and Protect Credit Union
Spectra Group (UK) Ltd
Stoke City Football Club
Telford & Wrekin Council
Warwickshire County Council
WH Management Group
The national celebration will run from today across the Defence Relationship Management (DRM) social media channels (Twitter, Facebook and LinkedIn) using the hashtag #GoldERS2020. There will be content showing the broad range of winning organisations including the growth of the awards and some of the brilliant initiatives that are in place.
We invite you to join us online to congratulate our Gold employers. You can follow us on:
Twitter: @WMRFCA and @BobbyBirdiREED
Facebook: @WMRFCA
LinkedIn: @West Midland RFCA
Instagram: @west_midland_rfca
To find out more about the Employer Recognition Scheme, and the criteria and process involved, please email wm-reed@rfca.mod.uk or visit our web page here.
You can find a full list of the organisations who have achieved their Gold Award in the scheme on the Government's website here.