To celebrate the 30th anniversary of women being deployed at sea in the Royal Navy, we're shining a spotlight on inspirational women in the Navy and their fantastic achievements.
One of these inspirational servicewomen is Commodore Mel Robinson (ADC MSc FCIPD), the current Commander of the Maritime Reserves.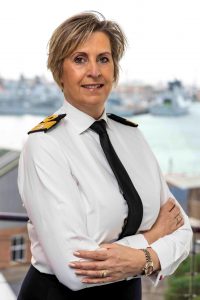 Commissioned in 1993 as a warfare officer, she served in a number of frigates and minor war vessels.  This included command of HMS EXPRESS and Wales URNU, an assignment that was the first of its kind in terms of a female taking sea command of a warship.
To make her career work and balance the demands of her young family, Mel left regular service in 2003. She started Full-time Reserve Service in 2005, and specialised in HR, leading the Naval Personnel Team (Reserves) whilst managing the Full Time Reserve Service scheme for the Naval Service.  After joining the Maritime Reserves in 2016 she was promoted to Captain into a new role in Navy Command Headquarters as Deputy Assistant Chief of Staff (Reserves) responsible for reserves policy, finance, recruitment, communications and business development.
She is a Cardiff University graduate and a personnel career field specialist.  She is a respected and active Fellow of both the CIPD and Royal Society of Arts, certified Master Coach and an alumnus of the Windsor Leadership Trust.  Mel was awarded a distinction by the Open University Business School for her Master's Level dissertation in Mentoring.
Her career path, whilst unorthodox, has delivered significant changes in Reserves personnel management.  She designed the Whole Force Career Management Cell and aligned CMR's Headquarters to the Navy Command Operating Model positioning it for further integration through the HQ Review.  She is the author of the Maritime Reserves People Strategy.  As an innovator, she is the architect of the seamless transfer process (Project Firefly) and most recently wrote the Maritime Reserves Directive.  This has already transformed the Maritime Reserves contribution to the Fishery Protection Squadron and Lead Commando Group and has triggered a once in a generation transformation of the Maritime Reserves that must be delivered in her tenure.
Mel Robinson is very proud to be a Reservist.  She is a values based, people focused leader of change that considers personnel, their families and (uniquely in the Maritime Reserves), their employers, in equal measure. She is the custodian of the transformative journey the Maritime Reserves must now take towards being an integral and auxiliary component of a 21st Century Royal Navy.
To find out more about the huge range of opportunities and roles available to both men and women within the Royal Navy, visit their website here.
You can find out more about opportunities with the Royal Naval Reserve on our web page here.