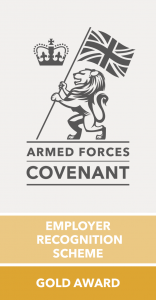 The Wales and West Midlands Gold Award Association webinar took place on Thursday 21st January 2021, with a focus on spousal employment. Chaired by Stephen Lees from Jaguar Land Rover, this was the first meeting for our 15 new Gold Award employers in the West Midlands region.
The principle speaker for the event was Helen Massy, a well-travelled military spouse/partner of over 17 years, with an extensive background as a health care professional in the NHS.
Helen's experiences highlighted several barriers for military spouses and so she has produced a magazine, Career Pursuit- a Career Guide for Military Families on the Move. This free resource is available to all military spouses, partners and veterans and provides expert advice around career change, starting a business, and the resources available to military spouses and veterans. View the magazine.
Rebecca Thorn spoke about The Poppy Factory's mission is to support veterans with health conditions on their journey into employment.
The Poppy Factory's employability support is available to those who have served for one day or more in the Armed Forces, Regular or Reserve, and consider themselves wounded, injured, sick or disabled. Rebecca served 20 years in the Army with the Royal Logistic Corps and left as Staff Sergeant in 2016. Find out more about the Poppy Factory.
The Wales & West Midland Gold Award Association has 59 members in total, with the mission to be an independent, collective voice of employers that wish to develop best practice, mentor and inspire those wishing to get the most from their Armed Forces Covenants.
The Prime Minister launched the Defence Employer Recognition Scheme to recognise and reward UK employers for their support for and commitment towards the Defence Community.
There are three tiers of award – Bronze, Silver and Gold – the Gold Award holders have all worked their way up through the awards and demonstrated their advocacy for support to the Armed Forces Community in alignment with the Armed Forces Covenant. Find out more about the Employer Recognition Scheme Awards.
Published 02/02/2021