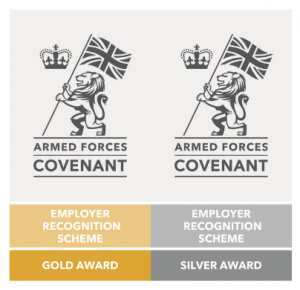 Our Employer Engagement team held Silver and Gold workshops for the region's employers on 26th and 27th January. These online events mark the start of this year's Defence Employer Recognition Scheme (ERS), now in its eighth year, and to help this year's prospective awardees understand the process and requirements.
For each of the ERS award categories there are a number of criteria that the organisation needs to meet in order for their application to qualify and be reviewed by the award board.
Prospective Silver Award organisations need to:
Demonstrate support for service personnel issues.
Actively communicate and uphold a positive stance to their employees, via HR policies and procedures.
Show flexibility towards annual training and mobilisation commitments of Reservist employees.
Support the employment of Cadet Instructors, Armed Forces veterans and military spouses/partners.
Prospective Gold Award organisations need to:
Proactively advocate and support defence.
Communicate their commitment to employees and the wider community through established policies and examples of support.
Offer Reservist staff ten days paid leave to fulfil their annual training.
This year's workshops included presentations from our Employer Engagement Team regarding the processes and timelines for expression of interest and applications. Alongside our team also welcomed Natalie Jones, who completed a successful Gold Award nomination in 2020 for Highways England; Stephen Lees the Armed Forces Programme Manager at Jaguar Land Rover and also Chairman of the Wales and West Midland Gold Award Association; and WO1 Mark Reynolds from 159 Regiment Royal Logistic Corps who delivered an excellent presentation on the Reserves.
Find out more about the process and expression of interest.
A toolkit is now available for employers to support with this year's nominations. For more help and advice, please contact Bobby Birdi at wm-reed@rfca.mod.uk
Published 02/02/2021