Earlier in the year prior to the suspension of face-to-face activities for our cadet forces and lockdown measures being imposed, one of this year's planned Lord Lieutenants' Awards ceremonies took place in Herefordshire.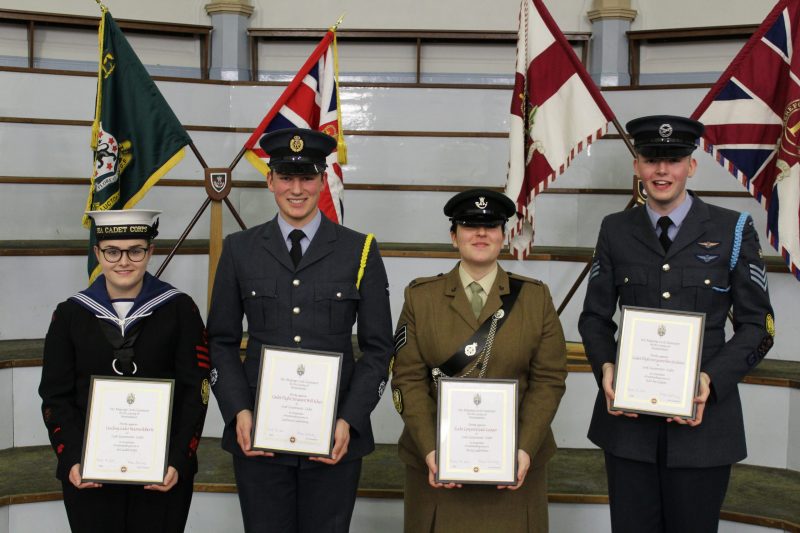 Each year the Lord Lieutenant for each county appoints several cadets to become the Lord Lieutenants' Cadets for that particular year.  These are drawn from the Sea Cadet Corps, Royal Marine Cadets, Army Cadets, RAF Air Cadets and the Combined Cadet Forces.
Her Majesty's Lord Lieutenants are the representatives of the Crown for each county in the United Kingdom.  They are men or women of all backgrounds appointed directly by Her Majesty the Queen.
The appointment is recognised as one of the highest honours a cadet can achieve.  The role involves assisting the Lord Lieutenant as required, often on parades such as Remembrance Sunday, at events and presentations, and if they are lucky, at Royal county visits.  They are ambassadors for their organisations and the young people of their region.
Her Majesty's Lord Lieutenant for Herefordshire, Lady Darnley CVO, commented:
"The Herefordshire Lord-Lieutenants' Cadets annual presentation evening has, over the years, grown into a very special event, and this year I was delighted also to present Lord-Lieutenant's Certificates for Meritorious Service to four very special Cadet Force Adult Volunteers.
"This gave us all the opportunity to recognise the wonderful people whose leadership and dedication make possible all the opportunities enjoyed by our cadets.  During their year in office I aim to show my Cadets something of the civic and voluntary life of our communities, and I hope that this will inspire them to make their own contributions in the years to come.
"They have added greatly to the events I attend, and I have much enjoyed their company.  They are a credit to their families and their units."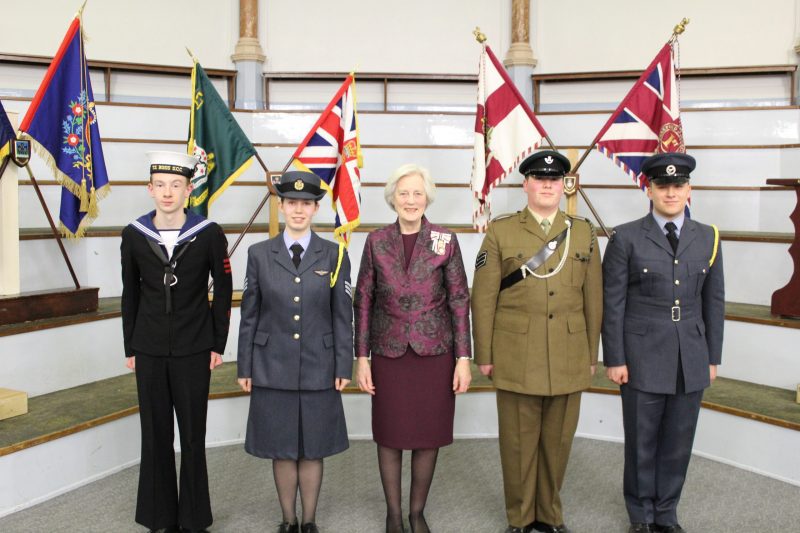 This year's incoming Lord Lieutenants' Cadets were Able Cadet Luke Ashcroft, representing Ross-on-Wye and Monmouth Sea Cadet Corps, Cadet Sergeant Amelia-Sky Stevens, representing the Lucton School Combined Cadet Force (RAF Section), Cadet Serjeant Joshua Chatburn representing the Hereford Detachment at Hereford & Worcester Army Cadet Force and Cadet Sergeant Nathan Rouse, representing 151 (Leominster) Squadron Air Training Corps.
The Lord Lieutenants' Certificates for Meritorious Meritorious Service were awarded to Warrant Officer Class 2 (SCC) Catherine Fitzgerald RNR from the Ross-on-Wye and Monmouth Sea Cadet Corps, Lieutenant Commander (SCC) Jane Shiels RNR from Hereford Sea Cadets, Lieutenant Commander (SCC) Robert Shiels RNR also from Hereford Sea Cadets and Warrant Officer Class 2 Richard Brown from Lucton School CCF.
During the evening former Cadet Serjeant Major Mr Sean Hendry-Galbraith, Bromyard Detachment of Hereford & Worcester Army Cadet Force, was also presented with his Master Cadet certificate.
Former Cadet Corporal Miss Emma Jennings, Hereford Detachment of Hereford & Worcester Army Cadet Force, was also formally presented with her Gold Duke of Edinburgh Award.
Find out more about the Lord Lieutenants' Awards.