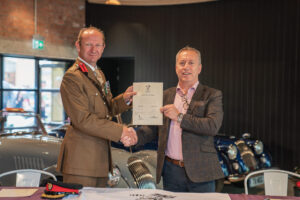 The Morgan Motor Company has signed the Armed Forces Covenant, pledging its support to those who serve and have served the nation and their families. The signing of the Covenant furthers the work the company is already engaged in with service charity, Mission Motorsport, The Force's Motorsport Charity.
The signing took place on Saturday 11 June at the Morgan Experience Centre during the company's bi-monthly "Meet at Morgan" event. Representatives from Mission Motorsport, the Armed Forces and Morgan Motor Company were present, with Morgan Executive Chairman, Steve Morris, and Colonel Chris Ledsham, signing the Covenant.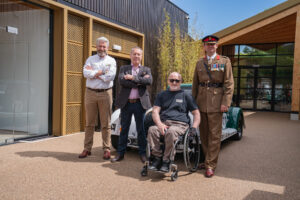 The Malvern based company has already employed several service leavers and has a Reservist policy in place. Further to this, a joint motorsport project between Morgan, Mission Motorsport and the University of Wolverhampton witnessed the creation of a specially adapted Plus Four race car to allow paraplegic veterans the opportunity to compete using hand controls. Steve Binns, a Mission Motorsport beneficiary, was reunited with the Plus Four – which was on display at the event – that he had raced last November at Anglesey Circuit for the Race of Remembrance.
Mission Motorsport beneficiaries were also integral in the durability testing of the new Morgan Super 3, supporting Morgan's engineering team with the development programme for the all-new model.
Steve Morris, Executive Chairman, Morgan Motor Company, said: "I am immensely proud to sign the Armed Forces Covenant on behalf of Morgan Motor Company. The signing of the covenant – and with it our formal support of the Armed Forces community – continues the work we have been carrying out with Mission Motorsport for several years. From motorsport and model development through to careers and charity events, we have identified areas across the business where we can support the community and honour their sacrifice."
James Cameron, CEO, Mission Motorsport, said: "The Morgan Motor Company is a British institution, where the history of the company and its people are interwoven with that of the Armed Forces community.  While custodians of a unique history, this is also a company whose contribution is very current – we've been so delighted that their work is being recognised by MoD for the very real impact that it is having."
Published 28/06/2022