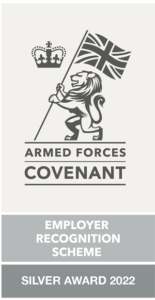 West Midland Reserve Forces & Cadets Association (RFCA) are very pleased to announce that 23 organisations in their region are confirmed as Employer Recognition Scheme (ERS) Silver Award winners for 2022. In addition a further eight employers have had their ERS Silver Awards from 2017 revalidated for their continued commitment.
A dedicated awards ceremony will be held at the National Memorial Arboretum in September this year, where all winners will receive their awards.
This Ministry of Defence award recognises companies for their support to the Armed Forces community, including Reservists, veterans, spouses, Cadet Forces Adult Volunteers and cadets. Silver award holders must demonstrate a number of positive measures and policies in their organisations, which actively support members of the Armed Forces community.
The silver status requires employers to ensure:
That members of the forces community are not disadvantaged in their recruitment and selection process.
That all positive policies relating to defence personnel are internally publicised.
That they employ at least one individual from the armed forces category that their nomination emphasises.
If required, that they have demonstrated support to Reservist mobilisations.
That they align their values with their Armed Forces Covenant.
West Midland RFCA would like to congratulate all of their region's winners for this year. The organisations cover all of the regions counties and come from a wide range of sectors including education providers, NHS Trusts, charities, local authorities and more.
This year's winners broken down into counties are:
Herefordshire
Alcocks Limited
C4i Systems Limited
David Marshall, Business Development Director of C4i Systems commented:
"This award means a great deal to C4i Systems, with the vast majority of our personnel having served in the armed forces, including myself. We recognise first hand, the outstanding contribution that our serving personnel, veterans and their families can make to our organisation. Unsurprisingly, the skills those team members have developed in the military have made them superb additions to our team.
"The ERS scheme also helps shape how we support the veterans and CFAV'S working within our organisation. This award formally recognises our commitment to ensuring the fair treatment of all staff who have served or will serve in the Armed Forces. And we don't plan to stop at Silver, we aim to continue this work with the hope of achieving the Gold award soon."

Shropshire
Great Dawley Town Council
Quorum Logistic Support Ltd
RAF Museum
Medrescue Group

Staffordshire
Gaskell Safety
Phoenix Industrial Training & Design Limited
Tri Services and Veterans Support Centre
Palletways (UK) Limited

Warwickshire
CODA Security Limited
North Warwickshire and South Leicestershire College
NP Aerospace Limited
Orbit Group ltd
University Hospitals Coventry and Warwickshire NHS Trust
Stellantis
Paul Richards, Group Director of Customer and Communities at Orbit, said:
"We are proud to be part of the Defence Employer Recognition Scheme and support the defence and armed forces communities who can offer vital skills and support our values as an organisation.
"Our commitment to the armed forces is demonstrated through our work with the Career Transition Partnership (CTP) to provide job opportunities to ex-armed forces personnel. What's more, we are signed up to the Armed Forced Covenant, while also supporting reservists who work for Orbit with our 'time off policy', enabling them to have time away from the business to carry out any required training without using their annual leave.
"By working with those who have served in the armed forces, they bring a wealth of skills including teamwork, planning and time management, communication, specialist knowledge, problem solving and leadership which are qualities we strive for from our colleagues. We are delighted to be recognised for this and to receive the Silver award for the Defence Employer Recognition Scheme."

West Midlands
Birmingham 2022 Commonwealth Games
Specialist Computer Centres PLC
Superfast IT
West Midlands Fire Service

Worcestershire
M&E Global Resources Ltd
Network Innovations Solutions Limited
Quanta Training Limited

Revalidations from 2017 are:
Briggs Equipment Ltd
Burton & South Derbyshire College
Lord Combustion Services Ltd
Mitchells & Butlers Ltd
Shrewsbury & Telford Hospital NHS Trust
Sonic Communications (Int) Ltd
Staffordshire County Council
Stoke on Trent City Council
Philip Sinclair, Regional Employer Engagement Director for West Midland RFCA commented on the awards,
"We are absolutely delighted that 31 employers across our region have been recognised by the Ministry of Defence's Employer Recognition Scheme Silver Award this year, including eight that have had their Silver Awards from 2017 revalidated, demonstrating a continued and sustained commitment to supporting our Armed Forces community.
"The Defence Employer Recognition Scheme encourages employers to support Defence and inspire others to do the same. The scheme encompasses Bronze, Silver and Gold Awards for employer organisations that pledge, demonstrate or advocate support to Defence and the Armed Forces community, and who align their values with the Armed Forces Covenant.  Having worked closely with these organisations over a number of months and years, we know of the commitment that they show and demonstrate on a daily basis, and applaud their recognition, which is justifiably deserved.
"Many congratulations to them all, we look forward to continuing our work with them."
The ERS was launched to recognise and reward employers who support Defence and inspire others to do the same.  To find out more about the ERS and Armed Forces Covenant visit https://www.wmrfca.org/employers
Published 27/06/2022