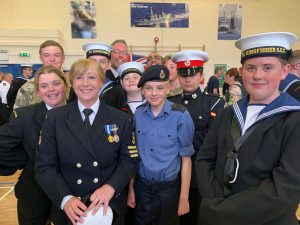 Petty Officer (SCC) Lisa Wood MA is the Officer in Charge of Redditch & Bromsgrove Sea Cadets. As a volunteer, Lisa has embraced the opportunity to help develop the lives of young people in her community; here she shares her journey to becoming a Cadet Force Adult Volunteer (CFAV).
I served in the Royal Naval Reserves in Birmingham, at HMS Forward, for over 21 years. With the unfortunate disbandment of my branch, I hung up my Tricorn hat in 2009 saying goodbye to an organisation that had blessed me with some of the most amazing memories, skills and friends to whom I would still entrust with my life.
To leave an organisation that had played a huge part in my life and had given me so much, it was inevitable that a void would be left. Therefore, I became a member of the Royal Naval Association, the Wrens Association and even established a weekly breakfast club for veterans and serving personnel who were in need of some military humour, camaraderie and support.
Then in 2017 whilst shopping, two very helpful and polite young people, a Royal Marine Cadet and a Sea Cadet, assisted me in packing my bags at the checkout. I commented on how smart they looked, popped some money in the charity bucket and by the time I reached the door, I had made an appointment with the Commanding Officer to become a CFAV.
Having completed the enrolment criteria to become an adult instructor, three years on, I am now the Officer in Charge of Redditch & Bromsgrove Sea Cadet Unit, with 65 cadets who form a remarkable Ships Company and Royal Marines Cadet Detachment.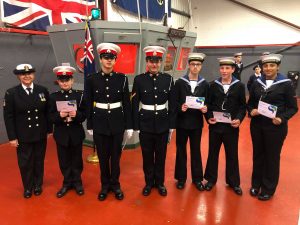 The Sea Cadet Corps (SCC) is a disciplined, uniformed youth organisation with the aim of giving young people the best possible head start in life through nautical adventure and fun, based on the customs and traditions of the Royal Navy.
As a charitable organisation, the SCC provides for all young people and offers a multitude of onshore and offshore activities, hands on qualifications such as BTECs and community engagement for both cadets and volunteers such as the National Citizen Service, alongside the development of confidence, independence and depth of character.
The cornerstone of the organisation is the Sea Cadet Values, which are instilled and embraced by all cadets and adult volunteers:
Commitment – to do what I say I will
Courage – to do what I know is right
Self-Discipline – to do what I must
Respect – to appreciate and be considerate to others
Honesty and Integrity – to tell the truth and be a good person
Loyalty – to be faithful to those who invest in me
Being an Adult Volunteer and Officer in Charge is incredibly rewarding and fulfilling, and I feel privileged to be part of an organisation who not only contributes to the shaping of young people's lives, but also alongside its core values and respect amongst its members, provides a fun, safe and supportive place for young people to thrive.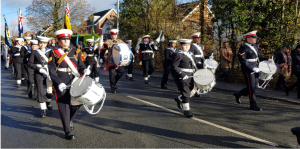 The Sea Cadet Corps inspires, motivates and educates young people to be the best they can possibly be for today and the future. I just wished I had known about it earlier!
Cadets and CFAVs alike come from all walks of life and all embark on their own unique journey into the Sea Cadet Corps. For further details about becoming a Sea Cadet or adult volunteer, please visit https://www.sea-cadets.org/join-us
Find out more about the other Cadet Forces.
Published 24/06/2021