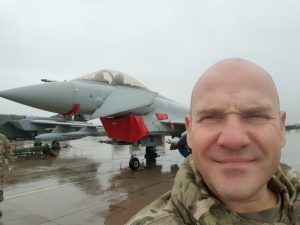 Senior Aircraftman Keith Herman lives in Greater Manchester but serves with 605 (County of Warwick) Squadron RAF Reserves. The Reserve unit based out of RAF Cosford, is the only RAF Reserve unit within the West Midlands area, and are specialist Logistics (Mechanical Transport Drivers, Suppliers and Chefs) and RAF Police Service personnel.
Keith join the Squadron in 2017, when he was in his mid-40s, following an earlier career in the Army. He enjoyed his time in the Armed Forces and wanted to do something positive with his free time, whilst inspiring others to join.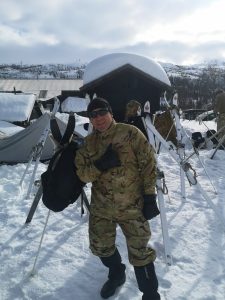 Sharing some of the highlights from his Reserve Service so far, he said, "There are lots of highlights, but too many to mention, although I would say the most memorable highlight was attending Exercise Winter March with the Norwegians – this involved being out in sub-zero temperatures and learning how to live in such harsh conditions on a daily basis."
Outside of his role with the Reserves, Keith works in compliance for SUEZ Recycling and Recovery. Telling us how his Reserve career has benefited his civilian career, he commented, "The organisational skills and personal discipline reflect in my commitment to my employer in my day to day duties. My civilian company have also nominated me as a regional representative for the Reserve group, and this has allowed me to be nominated for, and attend, mental health and wellbeing courses. I have used those skills on numerous occasions. 605 Squadron have also adopted this training and have appointed me as a mental health champion."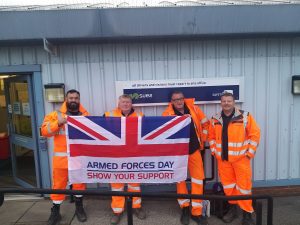 SUEZ Recycling and Recovery are happy to support Reservists and the Armed Forces. They see the benefit of the skills Reservists and veterans bring to their organisation, and the ability to share those with their existing civilian employees to develop and deliver on their business objectives. The skills that they gain are transferable and highly regarded by their business. For example, engineering skills and experience transfer into their energy-from-waste facilities, and logistics skills are valuable in their collections business.
The company is pleased to support the Armed Forces community and signed the Armed Forces Covenant in 2019. They are now working up the Employer Recognition Scheme Award levels, hoping to receive their Silver Award this year. As part of their commitment, they offer additional leave days to Reservists and Cadet Force Adult Volunteers. They also have a specific leave policy for spouses / partners, which entitles them to take time off during their partner's deployment.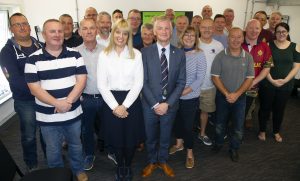 For Armed Forces Week this year, SUEZ will be celebrating their Armed Forces community, both internally and externally. Internally, their Chief HR and H&S Officer, Dr Tracey Leghorn, who is joint chair of Suez's Veterans Network, will be holding a live 'Meet the Veterans' roundtable discussion via webinar with several of their veterans to share their stories and advice to the wider business.  They are also taking part in the #saluteourforces online campaign with flag displays and team photographs.
Dr Tracey Leghorn said, "Whilst I've never served, I have the highest respect for our Armed Forces, past, present and those who are committed to serving in the future. I believe the courage and sacrifice of those who serve should be celebrated by everybody, every day. At SUEZ recycling and recovery UK, we believe all those who have served are a great asset to our organisation and the skills they gain through their incredible service to our country contributes to our success. We are proud to support Reservists and the Armed Forces."
Find out more about 605 (County of Warwick) Squadron and how to join.
Find out more information about becoming a supportive employer.
Published 22/06/2021