Fifty employers from the West Midlands region have received their Ministry of Defence Employer Recognition Scheme (ERS) Silver Awards from West Midland Reserve Forces & Cadets Association (West Midland RFCA).
The ERS was launched in 2014 to recognise employer support for the wider principles of the Armed Forces Covenant. The scheme encompasses bronze, silver and gold awards for the employers that pledge, demonstrate or advocate support to Defence and the Armed Forces community. This includes the Reserves, Service leavers, Armed Forces veterans, the wounded, injured and sick, Cadets, military spouses or partners and their families.
The winning West Midlands organisations are spread across all of the regions counties and come from a wide range of sectors across industry, in addition to education providers, NHS Trusts, charities, local authorities. They are:
Herefordshire
3 Counties Defence and Security Limited
HS Infra Ltd
Leominster Town Council
Octaga Security Services Ltd
Royal National College for the Blind
Sutton House Limited
The Cart Shed Charity
Wye Valley NHS Trust
Shropshire
Bright Star Boxing Academy
Helen Massy, Medical and Health Writer
Home Instead Shrewsbury, Ludlow and Oswestry
Home Instead East Shropshire
MCP2 Ltd
Rheinmetall BAE Systems Land
Shrewsbury College Group (revalidation)
Staffordshire
Acacia Training Limited
ArB Tree Care (Specialists) Ltd
Benx Limited
Cannock Chase District Council (revalidation)
EffecTech
Midlands Partnership NHS Foundation Trust (MPFT)
South Staffordshire College
The Institute of Leadership & Management
Walk Talk Action CIC
Warwickshire
Cadent Gas Limited
Severn Trent PLC (revalidation)
Telent Technology Service Limited
The Security Institute
Veterans Contact Point
West Midlands
Birmingham City Council (revalidation)
Dudley Metropolitan Borough Council
Elwood Recruitment
Four Circles Group Ltd
Kenton Black Ltd
Midland Heart
Midlands Recruiting Limited T/A Veterans Employment & Training Solutions
Old Swinford Hospital School (revalidation)
Sandwell Metropolitan Borough Council (revalidation)
The Phoenix Collegiate
Totally Modular Ltd
Trident Group
WAWI Project
West Mercia Search & Rescue
Walsall College (revalidation)
Worcestershire
Heart of Worcestershire College (revalidation)
Herefordshire and Worcestershire Chamber of Commerce
Meta Mission Data (revalidation)
Signal Traffic Management Ltd
Stepway
Worcestershire Medal Service Ltd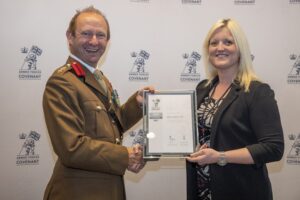 Teri Elder, Founding Director at Walk Talk Action CIC, commented about their award, "We at Walk Talk Action, are absolutely chuffed to bits after receiving the Silver Award! We are deeply passionate about passing on the opportunity for other organisations to take the pledge and sign the Covenant as we believe working together makes it better for everyone.
"Winning this award has given us the encouragement to keep thriving and supporting our Armed Force's community and helping them as much as we can to link and connect with other organisations to get them back to a better state of mind. Whether it be through walking or talking. We are truly honoured to have been in the company of some highly decorated military personally and part of such a fantastic day alongside all the other Award winners – thank you!"
Our West Midland RFCA's Regional Employer Engagement Directors, Cat Suckling and Philip Sinclair, voiced their appreciation to this year's winners, "We are particularly pleased and delighted to be able to welcome the West Midlands based Employer Recognition Scheme Silver Award winners for 2021 into the West Midland Silver alumni. As Regional Employer Engagement Directors, we seek to work very closely with our employers, and have made the journey with them, so it is a huge pleasure to see that their commitment and effort has been rewarded with this recognition.
"Our class of 2021, the largest cohort yet, all display a strong commitment to show their support, and demonstrate it by employing members of the Armed Forces community within their workforce or by being powerful advocates for the Armed Forces Covenant and the Armed Forces community that it supports amongst their own networks. We have the full range of the Armed Forces Community represented amongst those employers that have achieved the Silver Award recognition this year, which is fantastic! We now look forward to strengthening our links to them further, by supporting their journey towards Gold Award recognition. Congratulations, and thank you, your support is much appreciated."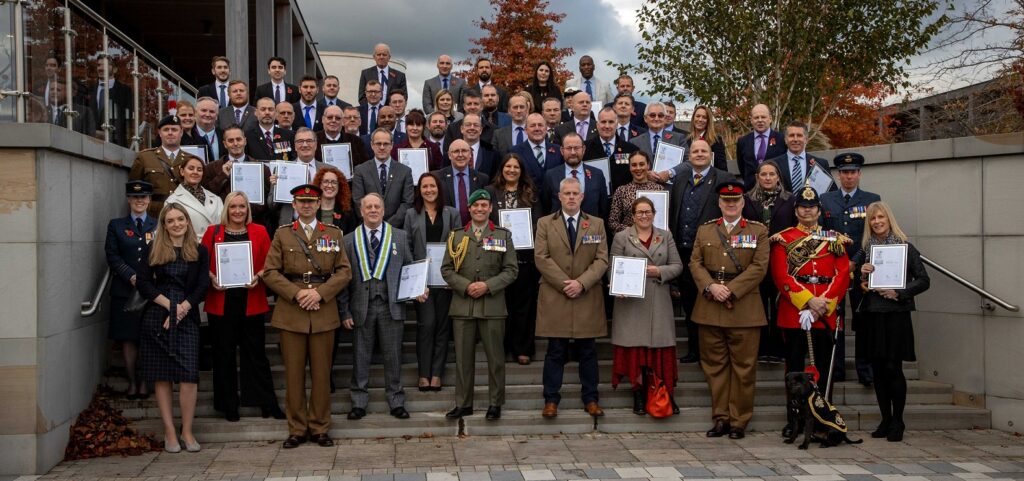 The lunch time event was held in Aspects at the iconic National Memorial Arboretum, a fitting place for such awards to be presented, and Michael Collie, who you might recognise from BBC Midlands Today, kept the event running smoothly as the Master of Ceremonies. Guests were welcomed to the event by Watchman, a Staffordshire Bull Terrier, which is a military mascot for the now disbanded Staffordshire Regiment, but continues his duties as part of the Staffordshire Regimental Association.
As well as highlighting the outstanding support of the employers the event also showcased the local Reserve units with members of the Royal Naval Reserve, Army Reserve and Royal Auxiliary Air Force all in attendance. We were lucky to have stands from 202 (Midland) Field Hospital, 605 (County of Warwick) Squadron, signals detachment from 37 Signal Regiment, a Crane Attached Lorry Mounted (CALM) military vehicle variant from 159 Regiment, Royal Logistic Corps and a light field gun from 214 (Worcester) Battery Royal Artillery, all popular attractions with visiting school groups!
Brigadier Graeme Fraser MBE ADC RM, Naval Regional Commander Wales and Western England was welcomed as the guest speaker and to present all of the awards on stage. We were also pleased to welcome Colonel Damian McKeown MBE, Assistant Head Employer Engagement Defence People for Reserve Forces and Cadets and Colonel Chris J Ledsham TD VR Deputy Commander Reserves 11th Signal & West Midlands Brigade as our senior Military representatives.
The event concluded with a short act of Remembrance at the Armed Forces Memorial, led by Father Ian Stephenson from 11 Signals and West Midlands Brigade.
If you're interested in finding out more about the Employer Recognition Scheme please visit – https://www.wmrfca.org/employers/employer-recognition-scheme/
To find out which organisations have signed the Armed Forces Covenent visit – https://www.gov.uk/government/publications/search-for-businesses-who-have-signed-the-armed-forces-covenant
Published 11/11/2021