Two organisations from the West Midlands have achieved the highest honour available for companies who support Defence – for the second time.
Bureau Veritas UK and Pertemps Limited have both previously been awarded a Defence Employer Recognition Scheme Gold in 2017 for their outstanding support towards the Armed Forces community.
In the five years since they were originally awarded the accolades, their continued dedication to upholding the principles of the award and growth of their support has now led to both organisations having their awards renewed for a further five years.
Organisations who can successfully demonstrate that they have maintained a consistent level of support with their actions and policies at either Silver or Gold level can be eligible to have their awards renewed.  During the renewal application process their submission forms are reviewed by a robust judging panel to ensure they meet the essential awarding criteria.
Both Bureau Veritas UK and Pertemps have been proactive in their approach since receiving their original awards.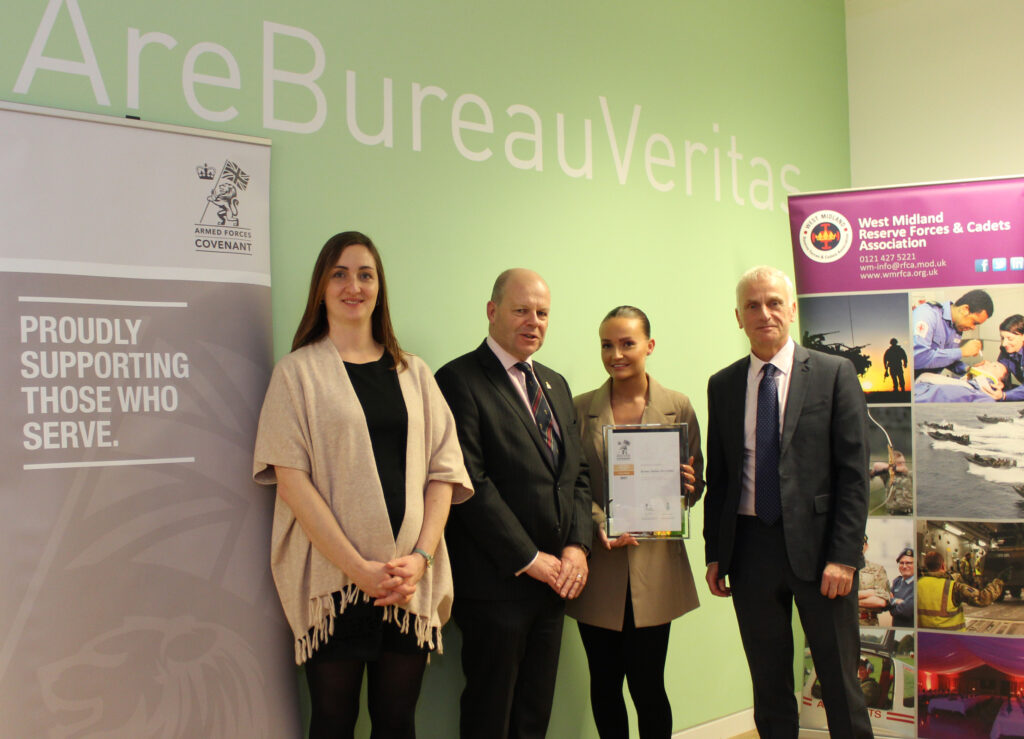 Bureau Veritas UK has a growing number of former service personnel employed in their company. They offer a transition support programme to help service leavers settle into their new roles as smoothly as possible. With the help of the ex-services staff already employed within their workforce, the programme helps to provide a level of compassion and understanding to new joiners that makes their journey into the civilian world an easier transition.
They are also still actively attending signposting opportunities to service leavers in partnership with different military job platforms, including a new partnership with the White Ensign Association, and have a dedicated forces page on their website which is available for both staff and job seekers to view.
Justin Simons, an engineer surveyor at Bureau Veritas and also an Army Reservist, said, "We're extremely proud of the work we do at Bureau Veritas to support Armed Forces leavers and delighted to have been revalidated once again for the Employer Recognition Scheme Gold Award.
"This award is just one way in which we demonstrate ongoing commitment to forces leavers. Through our structured programme, we offer new career opportunities, practical work experience and training opportunities. We are proud to already have over 120 ex-service personnel working at Bureau Veritas, each supported by our own 'transition network' and participating in a tailored programme of training and development to ensure a smooth resettlement and continued support throughout a long career."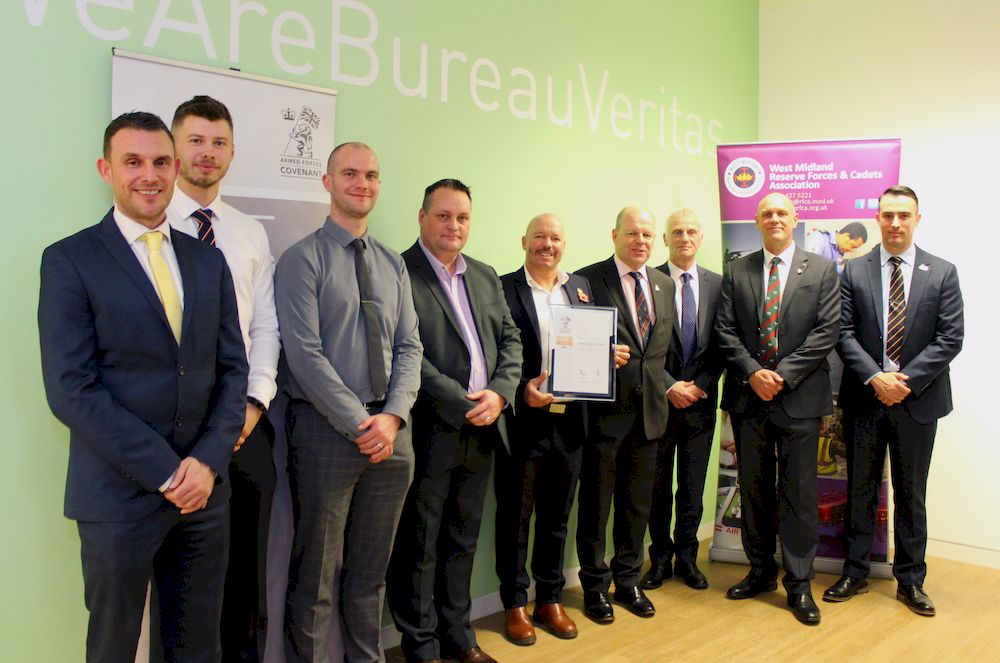 Pertemps have similarly experienced an increase over the years in the number of ex-service personnel and Reservists they have employed within their workforce.  Their dedicated Forces Liaison Team also helps current and ex-service personnel to find their next careers in civilian roles.  To date Pertemps have placed over 1,700 members of the Armed Forces community, and are actively working with hundreds more to gain relevant civilian qualifications.
In the past year during the national COVID-19 lockdown they also successfully supported the mobilisation of a Reservist employee as part of Op RESCRIPT; the military's response to supporting the Government during the Covid pandemic, which involved 3,000 Reservists being mobilised.
"We're extremely proud to receive this Gold Award revalidation in recognition of our forces-friendly credentials," said Kent Thompson, Managing Director at Pertemps Limited.  He added, "It highlights our commitment to the inclusion of employees who are members of the Armed Forces community and the valuable contribution they make within society and the workplace.
"This Gold Award revalidation salutes our ongoing commitment and the work we have achieved. Pertemps will continue to honour and support veterans, Reservists and forces' families."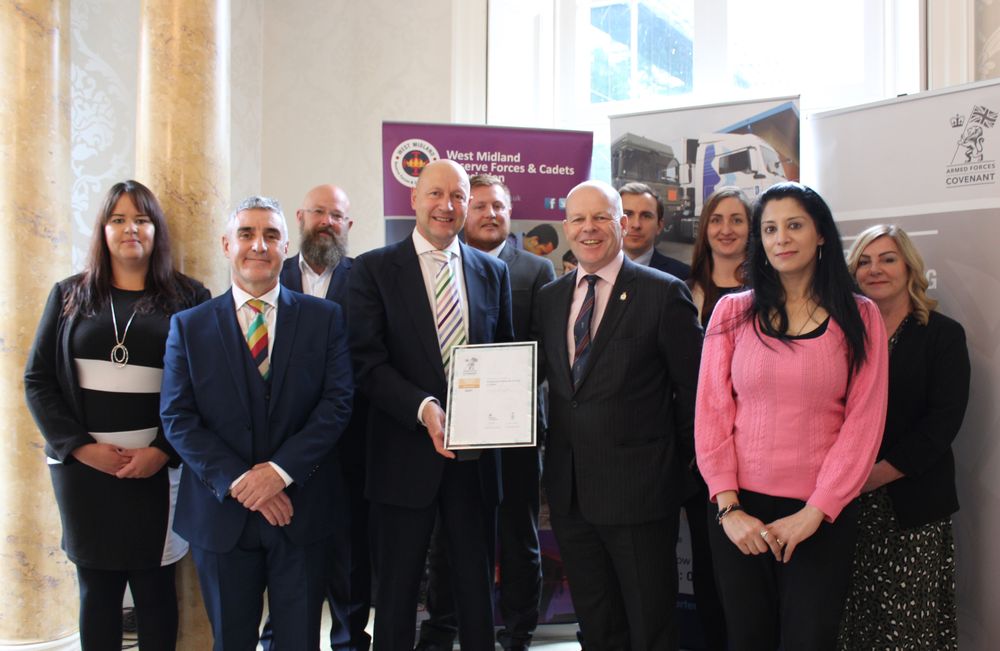 Pertemps Forces Liaison Manager Darren Knight was equally appreciative, saying, "I am absolutely delighted that Pertemps has been recognised for the continued support we provide Defence. The support I received from the business as a mobilised Reservist in 2020 was first class and I am proud of our record of working together as a business to support the Armed Forces community.
"The bar to win this award is set at the very highest of standards and for it to be revalidated is a fantastic achievement."
Cat Suckling, Regional Employer Engagement Director for the West Midlands, added, "It is a pleasure to support businesses such as Bureau Veritas and Pertemps through the ERS Gold revalidation process; both are fantastic examples in their respective fields of businesses that have not only maintained the level of advocacy that they initially demonstrated when they first won the Award back in 2017, but have consistently created opportunities to improve and increase their advocacy both internally and externally.
"I am so proud of the work that they have achieved and I look forward to supporting them as they continue to advocate for Defence and mentor others through the process."
Launched in 2014, the Employer Recognition Scheme recognises and rewards UK employers for their commitment and support to the wider Defence community, recognising pledges, demonstrable supportive actions and advocacy.
Find out more about how your organisation could get involved and start your journey on the scheme with a few easy first steps in our helpful guide.
You can also contact our Employer Engagement on wm-ee@rfca.mod.uk for more information. Find out more about how Bureau Veritas UK and Pertemps Limited support the forces community.
Published 02/11/2021