In March 2020, everything changed as the Covid-19 pandemic gripped the world, and as the implementation of lockdown measures began, requests for assistance were received daily.
Thankfully, the Operations Team at 37th Signal Regiment, amongst others, had prepared for such requests. The Regiment was able to respond quickly, leading to the first team of five Reservists heading to London in late March.  Ths was followed closely by a number of Individual Augmentees in early April, who dispersed around the country in a variety of communications and watch-keeper roles.  Attached to the various Regional Headquarters, they were predominantly working to assist the NHS response to the pandemic.
Next to mobilise were Covid Support Force 22, who deployed with their paired Regular unit (16 Signal Regiment) to assist with testing across the Midlands.  Warrant Officer 1 Gurung led the 30 other soldiers from varying ranks, drawn from all five squadrons of the Regiment.
Twelve Reservists worked as a Mobile Testing Unit (MTU), initially alongside 16 Signal Regiment, and latterly with 32 Regiment Royal Artillery. One of the first eight teams to be deployed across the UK, they also successfully piloted the digital registering process.
Working in conjunction with the Regional Testing Sites at Edgbaston and Coventry, they visited many communities across the West Midlands.  They also established test centres in nine locations, including Hereford, Walsall, Stoke-on-Trent, Stafford, Tamworth, Nuneaton, NEC Birmingham and Stratford-upon-Avon.  Over the course of 3 months, they helped to test thousands of key workers and their families, supporting them back into the workplace.
The following articles contain personal accounts of 37 Signal Regiment officers and soldiers who mobilised in support of the UK's response to Covid-19:
Army Reserve Signallers volunteer to help battle Covid-19 in London
Soldiers from the Regiment deployed to the heart of the Capital. Based out of Horse Guards Parade and Wellington Barracks, they played a key role in supporting their military colleagues and the NHS by enabling them to focus on the task in hand.
The team consisted of Staff Sergeant Taylor, Staff Sergeant James, Sergeant Liddle, Corporal Hathaway and Lance Corporal Smith.  Utilising their many skills, they provided technical support to stakeholders at the highest level and directly supported and enabled vital communications, positively impacting upon the Army's efforts in London. The team also added value by troubleshooting communication issues and working on vital, long-term, beneficial changes to the IT systems in London District.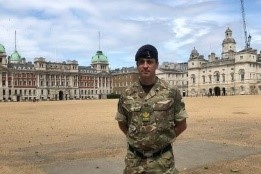 Staff Sergeant Taylor
Staff Sergeant Taylor, from Redditch, deployed as the senior Communications Supervisor. He is a Civil Servant working at HMRC and has previously worked as an IT network manager. He said, "It's been a privilege to be able to use my civilian skills to support this national effort.  We were able to identify IT projects where the skills of our Reservists were put to good use assisting staff in the Headquarters.
"We realised that users would benefit from training on the various software applications available, so we developed a suite of virtual training lessons.  The sessions we delivered proved incredibly popular and we soon found ourselves delivering remote training to hundreds of soldiers of all ranks, not just in the Headquarters, but from across Defence."
Corporal Hathaway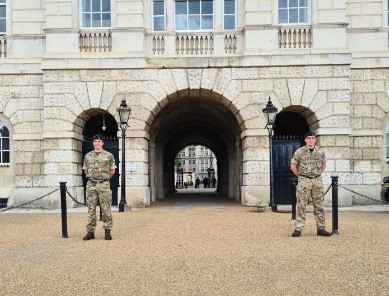 Corporal Hathaway, from 54 Support Squadron in Redditch, is a part-time Landscaper in his civilian role.  He deployed as team coordinator, responsible for maintaining situational awareness and managing the workload of the communications team.  He said, "When I heard that help was needed to aid the Covid-19 effort, I couldn't help but volunteer.  We deployed within 48 hours and I am incredibly proud of the work we've done.  London has been an amazing place to put my skills to the test, and I've also had opportunities to deliver trade training to some of the more junior members of the team."
Major Blair Addison, the principle regular Signals Officer within Horse Guards, who requested support from the Reserves, said that, "It is widely recognised that the Army's employment of Reservist signallers within Horse Guards has been unique and has helped ensure effective communications throughout the pandemic.
"Their unique skill sets brought from their civilian jobs has been fully utilised. I will be sorry to see them return to their home units once the military's support to Covid-19 concludes but hope we can continue to foster strong working relationships going forward into the future".
NHS Highlands Liaison Officer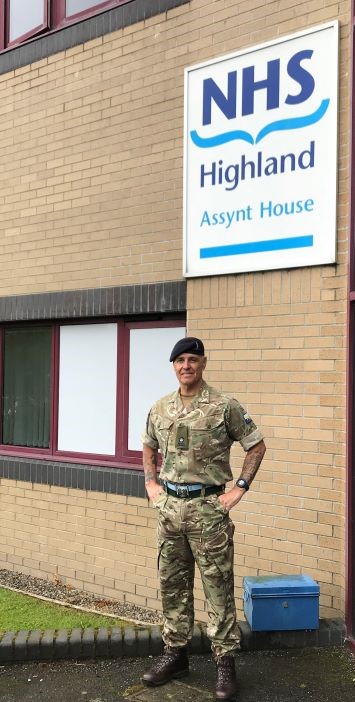 In response to one of the many trawls for personnel to support Operation RESCRIPT, Major Coatsworth volunteered for the role of Military Liaison Officer (MLO) and was subsequently deployed to Inverness to work alongside the NHS Highlands from 1st June 2020.  The overarching role of the MLO in Scotland was to understand the issues, concerns and risks within their Area of Responsibility (AOR), in order to inform Joint Military Commands Scotland's contingency planning.
The secondary purpose of the role was to support NHS Board planning activity and reassure key staff.  The Highland AOR, whilst not heavily populated, presents some interesting challenges in terms of its terrain and geographical spread.  With facilities located from the very tip of Scotland, down to and including Argyll and Bute.
The MLO role was both interesting and stimulating from the onset. The delivery and distribution of life saving medical supplies, the transfer of critically ill patients and latterly, the facilitation of an area-wide Covid-19 Care Home Testing Programme presented many challenges.
Speaking at the end of June, Major Coatsworth had nothing but praise for the NHS staff he was working alongside, stating: "I have met, and worked with some extraordinary individuals, and witnessed teamwork and collaboration on a hugely impressive scale. I can honestly say that I am proud to have played a very small part in this combined effort".
To learn more about the Reserve Forces and their role in supporting the UK, both at home and abroad, visit our web page here.