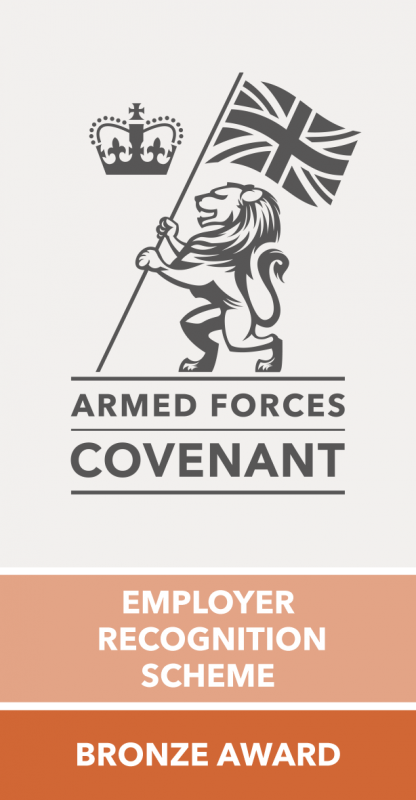 Trentham-based Acacia Training receives recognition for providing exceptional support to the Armed Forces community and now holds a Bronze award from the Defence Employer Recognition Scheme (ERS).
The company, which provides apprenticeships and work based training, earned the accolade by demonstrating through it's culture, policies and procedures that it is 'forces-friendly' and is open to employing Reservists, Armed Forces veterans, cadet instructors and Military spouses/partners.
Acacia Training already employs two ex-forces professionals – former RAF gunners Gary Peake and Phillip Delbaugh. The pair, who actually met over 30 years ago on a tour of Northern Ireland, now deliver a Mental Health First Aid training across the UK.
For Gary, it was his own experience that inspired him to become a first aider. After a medical discharge from the Armed Forces in 2015, following a 31-year career as a military parachutist and team medic. He developed PTSD and struggled to find employment, until he joined Acacia Training.
Company director Victoria Sylvester previously declared her support for the Armed Forces back in November 2019 by signing the Armed Forces Covenant to support the Military community. She also funded the £2,000 installation of an Auto External Defibrillator (AED) at TriForces, a support centre for Armed Forces veterans in Newcastle-under-Lyme town centre.
Acacia Training Director, Victoria Sylvester, explains:
"Through working with Gary and Phil, we have developed a much better understanding of the support that needs to be there for anyone leaving the forces.
We're thrilled to receive this Bronze Award to demonstrate our commitment to Armed Forces personnel past and present. This new accreditation has meant making changes to our policies and procedures as part of our commitment to recruit and retain more ex forces personnel in the future.
"Reservists and veterans bring a variety of transferable skills and qualities to the civilian workplace. We'd love more to walk through our doors to either work with us or be trained by us."
Acacia Training is a family business based in Stoke on Trent, providing apprenticeships, short courses and work-based training across the UK. Specialisms include health and social care, early years education, beauty, dental nursing and mental health first aid. Visit www.acaciatraining.co.uk for more information.
For more information about the Defence Employer Recognition Scheme, or how your organisation can support the forces community, visit our employers webpage here.