Fourteen members of 37th Signal Regiment set off on an expedition of a lifetime to the Everest Base Camp in Nepal.
After pre-deployment training to focus on mountain fitness, first aid and navigation in Wales at Capel Curig, Yr Wyddfa (Snowdonia) and Moel Siabod, the group flew into Nepal's capital city, Kathmandu.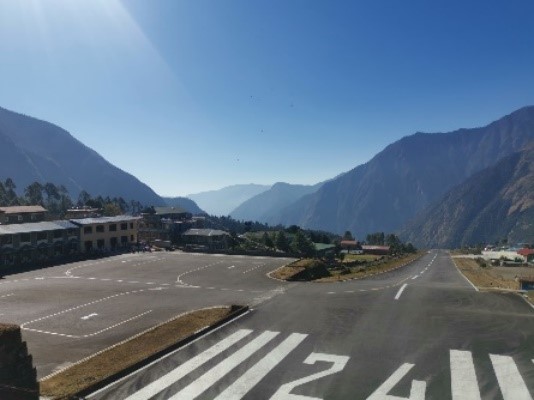 Packing three weeks of expedition kit into 15kg duffel bags and daysacks, the Reservists needed to travel light to adhere to the weight limits for flying into Lukla Airport; a remote mountainside airport which is often named as the 'world's most dangerous airport' due to its short runway on the side of a mountain.
The start of the expedition was a challenge to adjust to the reduced oxygen levels and a slower pace, for soldiers who are used to tabbing at speed. Travelling through the town of Lukla they were immersed into stunning green alpine scenery, following the glacial Dhudh Kosi river crossing suspension bridges to their first tea house at Phakding.
Continuing their journey, they reached the town of Namche Bazar at 3600m altitude, getting the first glimpse of Everest on the way. A thriving town with shops, cafes and bars, but no roads in the Everest region – everything is transported either by animals or people, including Sherpa guides with their superior climbing skills and strong endurance for high altitudes.
After an acclimatisation day at Namche, the trail took them to the temple of Tengboche, staying at Deboche, then Dingboche before going past the Everest memorial on the way to Lobuche.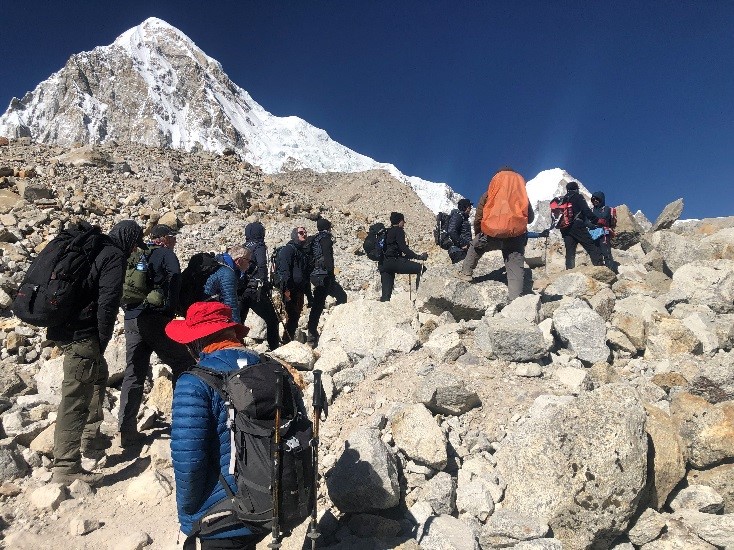 The scenery became rocky and barren as they got higher with temperatures dropping to minus 12 overnight.
From Lobuche, they had a long walk along the Khumbu Glacier to Gorakshep, then onto Everest Base Camp itself at 5346m – a special moment after 8 days of walking. This is the highest point you can get to safely.
The base camp is where professional climbers base themselves for summit attempts. It can take up to 40 days to summit Everest to allow for acclimatisation and there is only a small window of opportunity where the weather means a summit attempt is possible.
To get all fourteen members of the team to Everest Base Camp was a huge achievement especially knowing previous expeditions had not managed to get the whole team there.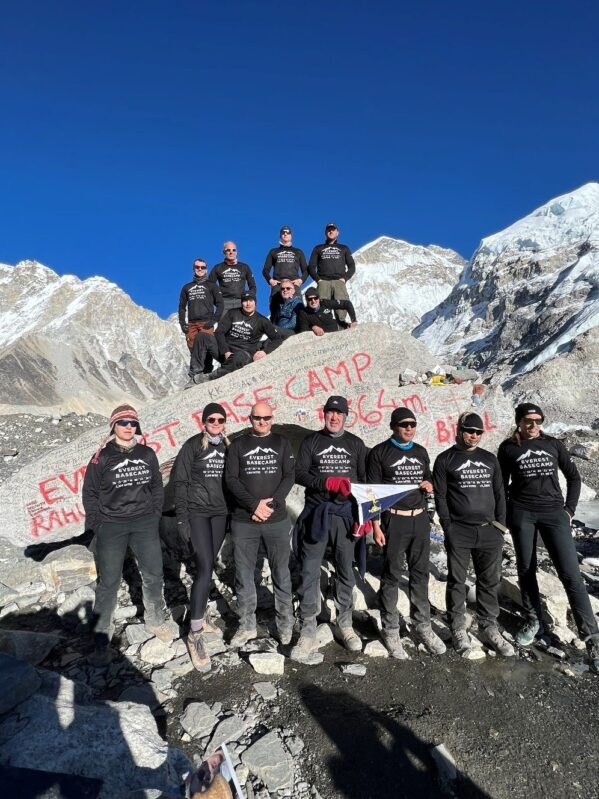 The hike back to the tea house at Gorakshep was bit of a blur and by this time, it was clear everyone was suffering quite significantly from the effects of altitude: loss of appetite, headaches, dizziness, head rushes, light headiness and slurred speech. A decision was made that the team needed to descend to a lower altitude to prevent anyone having any serious issues.
Over the next few days, the Reservists travelled back to Lukla to depart company with their porters.
Flying back out to Kathmandu and moving on to Pokhara, they opted for lower-level activities to conclude the trip including an early morning hike to Sarangkot to watch the sunrise over the Annapurna Mountain range, and a walk to an underground waterfall in the middle of the city.
Pokhara also allowed the group to visit to British Gurkhas Pokhara where they learnt about the proud history of the Gurkhas serving in the British Army – a loyal friendship that formed originally out of battle. From Pokhara, they returned to Kathmandu for a final meal with their guides before returning to the UK.
The opportunity to travel around the world to trek, visit unique terrains and experience the warmth of other cultures is a key part of the adventure training opportunities offered within the Reserve Forces.
Our Association was pleased to be able to offer funding towards the expedition, alongside The Ulysses Trust and Royal Signals Association.
Taking people out of their comfort zone and into challenging environments allows them to grow both as individuals and as team, bringing beneficial new skills and qualities back to the wider squadron and units.
Find out more about the Reserve Forces in our region and training opportunities on offer.
37th Signal Regiment are an Army Reserve regiment based in Redditch, with other unit locations around the Midlands region. Stay up to date with their latest news and activities.
Published 03/04/23