An Admin Officer for Warwickshire and West Midlands (South Sector) Army Cadet Force (ACF) has been recognised with a Commander's Coin for his dedication.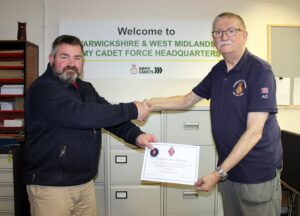 Michael Hutchinson was presented with the coin by the Cadet Executive Officer for Warwickshire ACF, Major John Walker, on behalf of Colonel Paul 'Shove' Gilby OBE, Commander at the Army's Headquarters West Midlands.
The Commander's Coin is awarded to individuals in recognition of a special achievement or commendation.
After working with the ACF for nearly 14 years Mick was nominated for his steadfast support to the county's headquarters and cadets.  Meticulous in his day-to-day duties, it is also Mick's work behind the scenes outside of his main role which has gained high praise.
Going above and beyond Mick regularly helps their Commandant with organising the county's familiarisation packages, ensures efficient communication with new potential volunteers and the accurate completion of paperwork. Where possible he also attends the monthly Commandant's Conference.
Prior to his current role Mick served in the Regular Army for 22 years, before completing 15 years on the long service list, finally finishing his formal military career as Local Warrant Officer Class 1 Chief Clerk.
Major Walker praised his achievements, saying: "Mick keeps me on the straight and narrow on a daily basis and I am hoping that he never feels the need to retire.
"I was more than happy to recommend Mick for a Commander's Coin as most days he will go out of his way to help in any way, small or not, he will always go above and beyond without any thought for recognition or mention."
Mick said on gaining his award: "I was totally taken aback when the Commander's Coin and certificate was presented to me by my Line Manager, Major John Walker the CEO of Warwickshire & West Midlands (South Sector) ACF.
"To receive an award for my work with the County is indeed a career highlight and one I will remember fondly."
Congratulations to Mick from your colleagues at West Midland RFCA.
Find out more about Warwickshire ACF and how you can join as a cadet or volunteer.
Learn more about how our Association supports the Reserve Forces and Cadet Forces in our region.
Published 30/11/2022