Old Swinford Hospital Combined Cadet Force (CCF) are celebrating after gaining the 'Best Overall Score' at a regional marksmanship competition.
Competing against other Army Cadet and CCF teams, Old Swinford Hospital CCF put their accuracy and shooting skills to the test at the Army's Headquarters West Midlands Skill At Arms Meeting (SAAM).
They were scored individually, as pairs and as teams, across a number of shooting disciplines, including:
A 300m shoot (standing in fire trench)
Run down to 200m for a rapid shoot
Run down to 100m for a snap shoot (in kneeling position)
Running weekly shooting sessions at their own indoor range, Old Swinford Hospital CCF selected a team of eight cadets with the best marksmanship abilities to represent their contingent.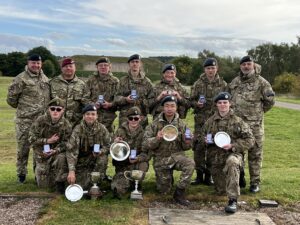 As well as winning 'Best Overall Score' their cadets also won the 'Best Pairs', 'Best CCF Team' and 'Best Individual Score' categories to add to their list of title wins from the day.
The CCF are no strangers to the SAAM having previously competed over the years. However, this year it is believed they may also be the first CCF, for many years, (if not the first) to win the 'Best Overall Score' at the competition.
Commenting on the day, Cadet Lance Corporal Byard-Janes said: "I really enjoyed the competition, and the safety staff were very friendly.  I was a bit surprised that we won the overall score, but very happy nonetheless. I'm thankful to everyone involved in putting the SAAM Competition together and I'd be eager to complete it again."
Cadet Choi and Lance Corporal Oliver added: "We are all delighted with our result. However, we all want to further develop our shooting skills – by advancing our application of marksmanship principles.  We hope to see you all at the SAAM again next year!"
Reflecting on their performance the contingent's School Staff Instructor, Jason Till, praised the cadets by saying: "This is a really great achievement that shows that cadets love shooting, and that hard work really pays off."
Old Swinford Hospital is a state boarding school in Stourbridge which offers a Combined Cadet Force amongst its enrichment activities.  With both an Army and RAF section it provides military themed activities, varied adventure training activities and the chance to learn additional skills such as first aid, flying and fieldcraft. Find out more about Old Swinford Hospital CCF.
Learn more about the Combined Cadet Forces in our region.
Published 15/11/2022