Shropshire Council are proud signatories of the Armed Forces Covenant and were immensely proud to receive the Military of Defence's Employer Recognition Scheme Gold Award in 2017.
To further their commitment they have re-signed their Armed Forces Covenant this week, during Armed Forces Week. Since they last re-signed in 2016 they have done much more in terms of their support, policies and advocating for the Armed Forces community, which they wanted to reflect in their enhanced version.
The council is hugely supportive of their Armed Forces community and offers a wide variety of support to Serving Personnel, veterans, Reservists and cadets. During the past few years they have run a number of events to demonstrate their support. These events help them to raise the profile of the Armed Forces community in Shropshire and to demonstrate the work they do.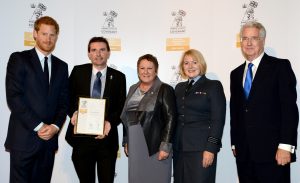 They have always supported Armed Forces week as they believe it demonstrates their willingness to honour those that have, and those that continue to serve. During the week they also engage with local businesses who are interested in signing the Covenant. In Shropshire they have over 100 businesses who have pledged to support their staff who have a connection to the Military or members of the Armed Forces community.
During Armed Forces week Shropshire Council always promote Reserves Day as they recognise that Reservists play an important role in protecting our country and the huge benefits they bring to their employers. The council is supportive of the Reservists they employ and any member of staff that wishes to join the Reserve Forces.
Find out more about the Armed Forces Covenant and Employer Recognition Scheme.
Published 24/06/2021