An extraordinary group of cadets and volunteers have been formally recognised for their remarkable achievements at a special virtual investiture ceremony.
Three of the cadets, all hailing from Staffordshire, have been selected to be the county's new Lord-Lieutenant's Cadets for the forthcoming year.
In their role as Staffordshire Lord-Lieutenant's Cadets they will accompany and assist HM Lord-Lieutenant of Staffordshire, Mr Dudson CBE KStJ, in his duties at Royal visits and events across the region.  The prestigious roles were formally announced at a virtual ceremony, with the Lord-Lieutenant warmly welcoming the cadets on camera as they were presented with their badges from proud family members at home.
As well as welcoming the county's new cadets, Mr Dudson thanked the outgoing cadets for their service over the past year as their certificates were presented.  With Covid-19 restrictions cancelling or postponing most face-to-face events last year, the cadets were unable to take part in as many physical duties as hoped.
Outgoing Cadet Sergeant Joel Thompson commented, "I was lucky enough to attend the family Remembrance event for the fallen servicemen last year.  It's been unfortunate that we've not been able to attend more, but it's been a massive badge of honour on my uniform and I enjoyed attending that event; it's been a massive honour, so thank you Sir."
Being appointed as a Lord-Lieutenant's Cadet recognises their outstanding example and commitment to their respective cadet forces.  It is the highest honour a cadet can receive.
Petty Officer Jordan Barnes, said, "I do appreciate the opportunity to be recognised and I was very excited to be appointed to the role in the first place. I've now turned 18 so I'm no longer a cadet, however I'm going through the process of becoming a volunteer within my unit and have future career aspirations for the military. This role being appointed to me has given me the confidence and ability to go forward and apply for these various roles that I'm considering!"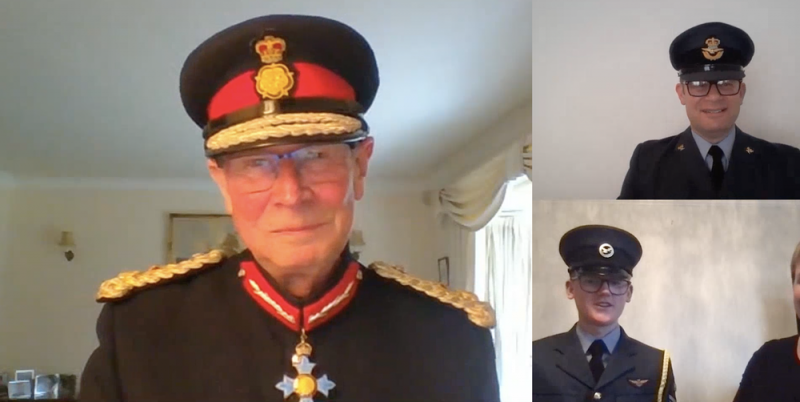 This year's new incoming Lord-Lieutenant's Cadets are:
Cadet Sergeant Megan English – Stafford ACF
Cadet Flight Sergeant Alfie Jennings – 435 (Newcastle-under-Lyme) Sqn ATC RAFAC
Cadet Corporal Jessica Hankin – Stafford & Rugeley Royal Marines Cadets (Sea Cadet Corps)
The outgoing Lord-Lieutenant's Cadets are:
Cadet Sergeant Katie Nolan – Tamworth Detachment ACF
Cadet Flight Sergeant Ewan Safrany – 2078 (Boscobel) Sqn ATC RAFAC
Petty Officer Cadet Jordan Barnes – Stoke-on-Trent Sea Cadets (SCC)
Cadet Segeant Joel Thompson – Stafford & Rugeley Sea Cadet Unit (Royal Marines)
Petty Officer Cadet Grace Owen (Newcastle-under-Lyme) School CCF
As part of the ceremony, Mr Dudson also gratefully thanked and presented a number of adult volunteers with the Lord-Lieutenant's Commendation for Meritorious Service.  A rare and prestigious award, it is only given to adult staff in recognition of their exceptional service to the county.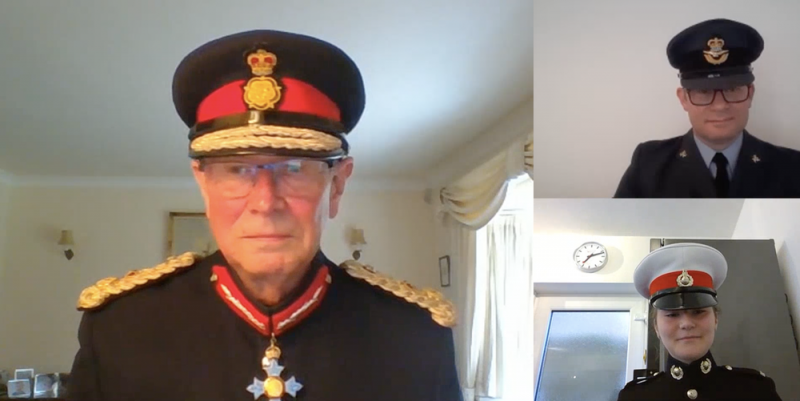 The certificates were presented to:
Lt Lee Townsend – Royal Marine Branch Sea Cadet Corps (Stafford SCC)
Lt Cdr Graham Townsend – Royal Marines Sea Cadet Corps
Padre Stuart Powell – Staffordshire and West Midlands (North Sector) Army Cadet Force
Captain Kim Haines – Staffordshire and West Midlands (North Sector) Army Cadet Force
Squadron Leader Victoria O'Dell – RAF Air Cadets
All of this year's recipients have served with their respective units for a number of years and have been instrumental in helping hundreds of cadets to achieve their best potential, providing incredible experiences for them, and being an exemplary member of their unit and community.
Adult volunteers are vital to the running of the cadet forces, and without them the cadet force experience would not be as vibrant and fulfilling.
A huge congratulations and well done to all of the Staffordshire Lord-Lieutenant's Cadets and volunteers for their dedication and service!
Find out more about the Lord-Lieutenant's Awards and the role of Staffordshire Lieutenancy.
Interested in finding out more about the Cadet Forces in our region? Read more about joining as a cadet or volunteer.
Published 04/08/21